Ambie Abaño on her 2011 residency in Paris
Ambie Abaño on her Cité Internationale des Arts residency and experience in Paris, France

Installation of Ambie Abaño, Paris, 2011.

1. How did you feel when you received word that you were the grantee for the 2010 Alliance Française de Manille-Philipine Artist Residency Program? Was this your first residency grant? How did you prepare for the residency?
It took a while for the news to sink in when I was told. It is my first residency and also my first time to be in any part of Europe! I got lost in my head imagining what it's really like to experience being and working in a distant unfamiliar space/environment for an entire three months. I was excited for the adventure, at the same time the idea of getting out of my comfort zone got me curious.
Early into preparing my proposal, I had done some research, consultation and correspondence with key people to gather information that would help me realistically plan out a design for my intended purpose. Though I should also say that in my case, planning usually starts at the onset of an inspired dream or desire. Part of preparation is to constantly be mindful that gifts always come with responsibility and to be ready to adjust to actual circumstances, as we cannot exactly define future situations. Likewise, it means that we should be open to recognizing extra gifts from such situations.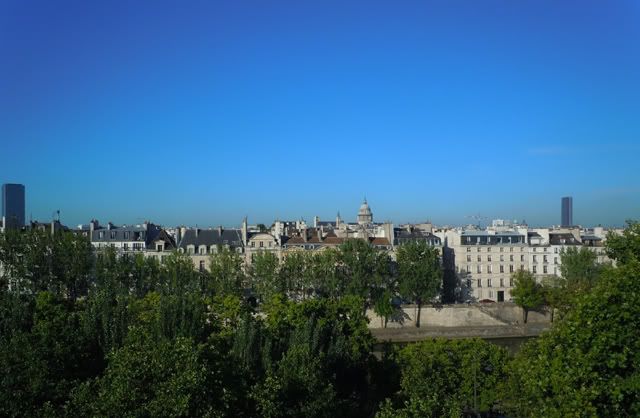 View from Ambie's room.
2. Where did you stay in France and what was the program devised for you?
Alliance Française de Manille arranged my stay at the Cité Internationale des Arts located in the Marais district - in the very heart of the Paris. It is an artists' residence that catered to some 200 visual artists and musicians from all over the world. From my living/work space on the fifth floor fronting the river Seine from the right bank, I had a magnificent view of Notre Dame, Tour Eiffel, Pantheon and Tour Montparnasse rising from among the rooftops of centuries-old structures against the 'langit na bughaw'. The location was accessible by foot to Musée du Louvre, Centre Georges Pompidou in Beaubourg, contemporary art galleries, parks, the tourist areas Saint-Michel and the Latin Quarter in Saint Germain.
At the Cité, there was a monthly reception for artists, weekly concerts by resident musicians, exhibitions, open studios, and artist/s organized Monday picnics (on clear days) which allowed connection and interaction among artists from different orientations. There was much to learn from these and my other serendipitous encounters with some very interesting persons outside Cité – learning not only of the other, but of the self as well through discovery of others.
By metro I went twice a week to la Taille Douce for training in intaglio printing and color viscosity technique under master printmaker Françoise Bricaut with whom Ofelia Gelvezon-Tequi also trained and collaborated. Apart from that, I visited other printmaking workshops particularly the legendary Contrepoint (formerly Atelier 17) established by the late Stanley William Hater and met his partner Hector Saunier, under whom Benjamin Torrado Cabrera trained in engraving.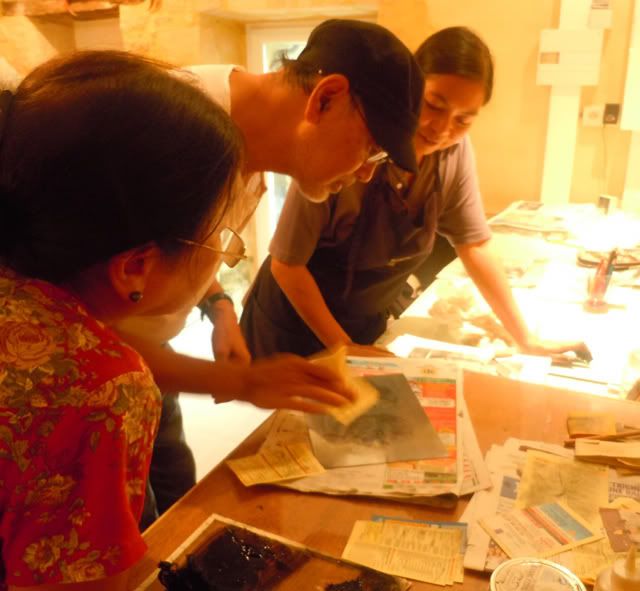 Abaño with BenCab and Ofelia Gelvezón-Téqui.
Culminating my stay at the Cité, I had great time transforming my room into an exhibition space for an open studio showing both old and new works – installation of woodcut, drawings and a few small ceramic pieces. Among my guests included AFM President Ms. Deanna Ongpin-Recto, Madame Laurence Lalatonne of Fondation Alliance, Former AFM Director Philipp Normand, France based artist Gaston Damag and special friends I met in Paris.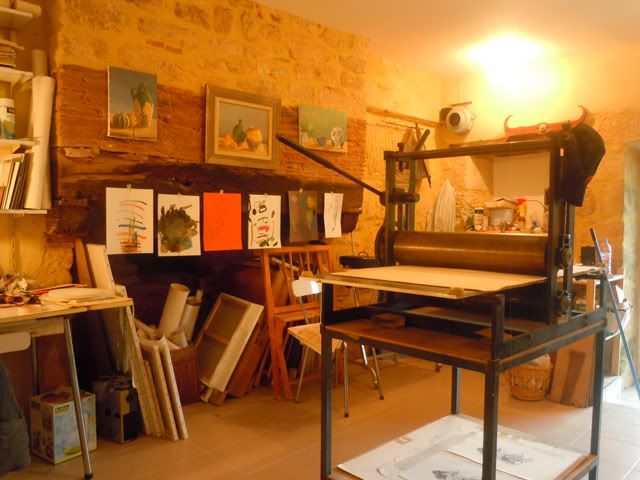 Ofelia Gelvezón-Téqui's printmaking studio, Limeuil, France.
From Paris, I had the great privilege of visiting and working with Ofelia Gelvezon-Tequi, one of my idols and who is also among the most respected Filipino artist-printmakers. I was very warmly received by her and her husband Marc in their beautiful house which is in the medieval village called Limeuil. It is in the Périgord region five hours by train south from Paris. It's paradise! Before I left, I also had the opportunity to pull an edition with Ofelia, an etching done by National Artist BenCab, another one of my idols in printmaking, who came for a short visit.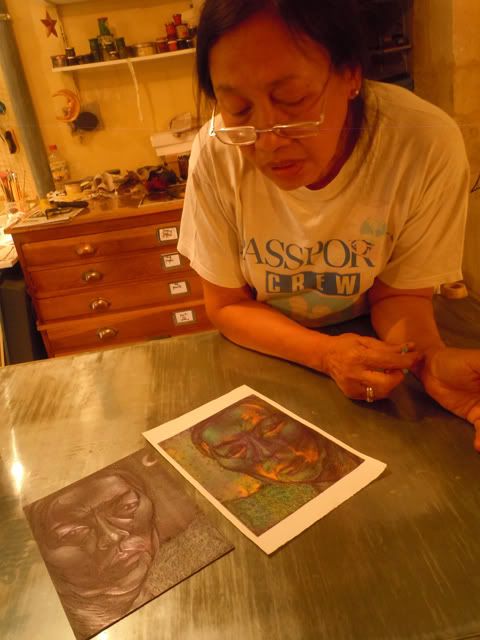 Ofelia studying Ambie's prints.

3. How long was the program and do you think it was enough?
The grant was for three months, though I stayed for a few more weeks on my own (partly visiting Ireland upon the invitation of a friend).
There was much to be learned and I had hoped that I could have stayed longer for the training. Though, considering the enrichment I gained from the entire experience, three months was good. I feel very blessed coming home and feeling much richer with precious encounters with people, culture, art, nature and the city.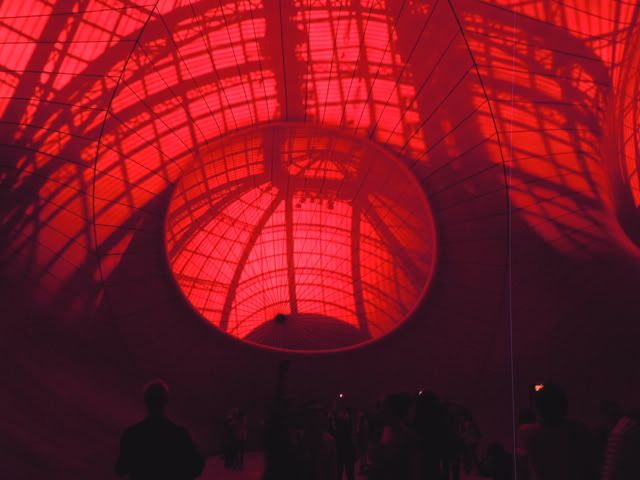 Interior of Anish Kapoor's 'Monumenta' at Grand Palais des Champs-Elysées.
4. What were the best experiences - sights, collaborations - of your residency?
I value mostly relations I have established - the awareness of the Other in people I met, learning from them and sharing our worlds. I gained from real people, real friends. I also appreciated how having a private space allowed me the chance to introspect and reflect.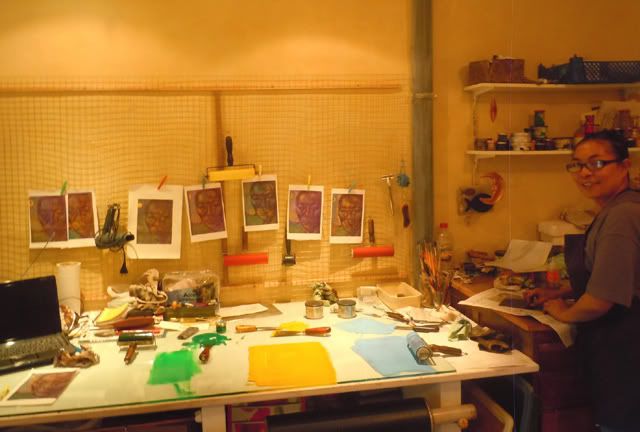 Abaño creating trial prints.
My experience of Limeuil is quite special with its warm community, serene natural environment and preserved historical (13th century) architecture – very pleasant!

Anish Kapoor at Grand Palais.
Among unforgettable works I've seen include Anish Kapoor's Monumenta at the Grand Palais which I went to see three times and Le Christ de Rembrandt at the Louvre where the etching plate of Descent from the Cross was on display. Other highlights include contemporary architecture in La Défense with public art by Miro and Calder, a print fair in Saint-Sulpice, works by Degas and Monet at Musée d'Orsay, Chuck Close and Francis Bacon at Pompidou and the Musée du quai Branly. Likewise, watching the Operas Othello and Sweeny Todd was eventful.
Seeing Woody Allen's Midnight in Paris in Paris was quite surreal that coming out of the movie theatre, it felt like I was in a continuation of the movie.
Let's not forget good food and wine (particularly foie gras, and Ofelia's cooking) with good company!
With a new network of artists in tow, I see possibilities for artistic collaborations in the future.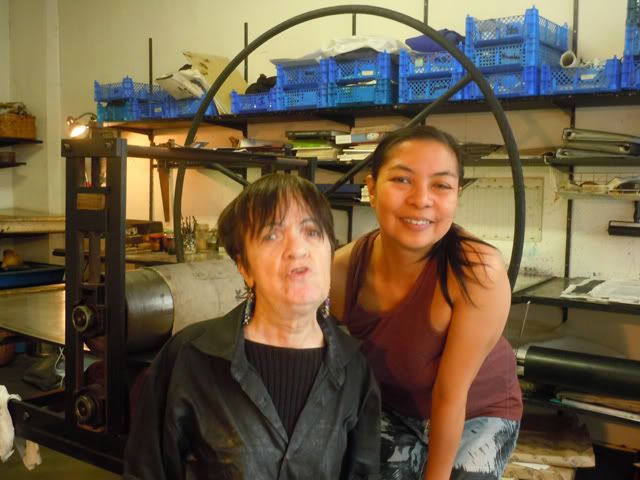 Francois and Ambie, La Taille-Douce.
5. How do you think the program helped you in your practice as a printmaker?
Getting exposed to the practice in France - which is often considered the Mecca for printmaking - I got inspired to explore and pursue further the new medium I learned for myself consequently leading to actively promote even more this art form in the Philippines.
I also realized that there is much more to learn and explore in the different techniques than I previously imagined. Being the student rather than the teacher during my stay in Paris proved to be a humbling enriching experience.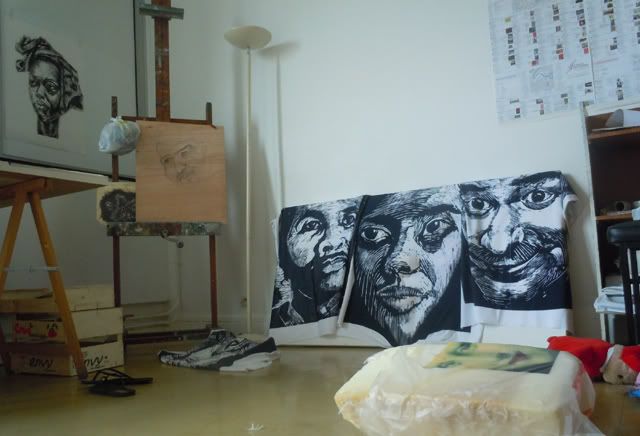 Preparations for Open Studio, Cite des Arts.
6. How would you compare the conditions of being an artist there (whether as one who is in a short-term residency or as one who is based there indefinitely) and an artist in Manila?
Working there, I missed Divisoria so much, my favorite lumberyard in Paco, and the easily accessible hardware with affordable tools! I also pined for the convenience of having my five feet planks delivered in a 'padyak.' Materials are very expensive in Paris, sometimes hard to find and possibly difficult to transport if your works are big.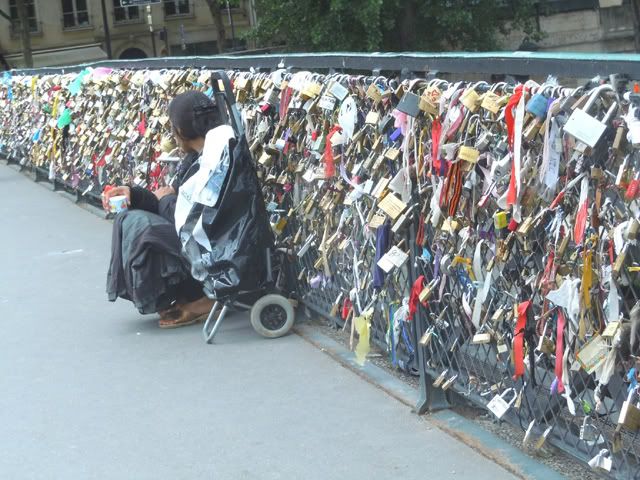 Intervention on Paris streets.
As Ofelia advised me, I scavenged along the streets and in the garbage and discovered that there is a wealth in it for materials one can use. It may be exciting to work that way occasionally, but not always as it can also be limiting. I realized how privileged I am to be an artist in Manila. Space is like gold in Paris - I imagine that for an artist based there indefinitely, finding a big enough and affordable workspace can be a problem.
In terms of the public's appreciation of art, artists have a wider audience in Paris so much so as patronage of art and culture is a way of Parisian life. As much as art is flourishing in Manila, appreciation is concentrated within a smaller community. Perhaps introducing more public art can bring more people to appreciate and experience artistic expression. After all, art is made by people for people – it is the greater majority of people to whom artists speak to.
About Ambie Abaño
Ambie Abaño has been the President of the Philippine Association of Printmakers since 2007. She graduated from the University of Santo Tomas with a Bachelor of Science degree in Architecture and is pursuing her Masters in Fine Arts Degree at the University of the Philippines where she also currently teaches at the Department of Studio Arts.
Among her achievements include the Grand Prize in the Painting Category in the Art Association of the Philippines Open Art Competition in 1987 and the Grand Prize in the Philippine Art Awards in 2006. She is the first recipient of the Alliance Française de Manille - Philippine Artist Residency Program which brought her to Paris for a three-month residency for further training in color viscosity and various intaglio techniques at Atelier La Taille Douce. She is also a grantee of the Asian Cultural Council for a six-month artist's residency in New York where she will train in Lithography at the Robert Blackburn Printmaking Workshop in 2012.