First Years: Planting Rice Projects + 2013 & Beyond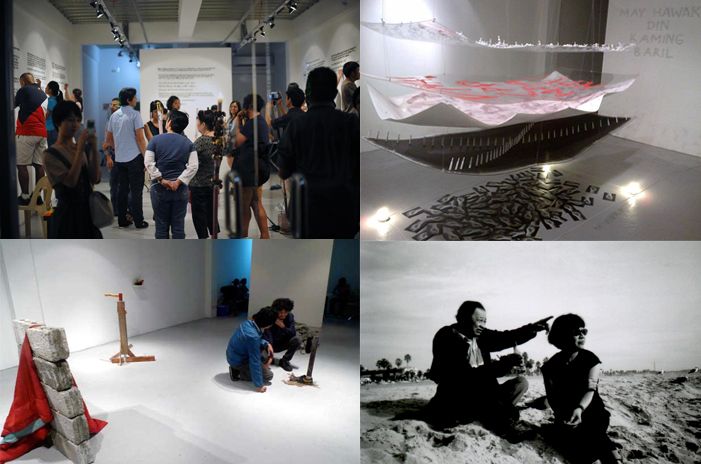 Planting Rice wrapped up SPROUT in Republikha Art Gallery with Shireen Seno's "Mystery Terrain" that ran from 14 Jan to 4 Feb 2012. SPROUT looked at four projects by artists we supported in their endeavors to explore the limits of cultural infrastructures in their continuous social and artistic dialogues. Prior to Shireen's photographic conversation with placelessness, the other projects were "versereverse" (8-29 Oct 2011)  by Renan Ortiz that delves into the principles that governs international peace process talks and their efforts for socio-economic reforms nation-wide; "Witnesses in the Garden" (12 Nov – 3 Dec 2011) by Enzo Camcho/Amy Lien that revolved around a conversation on immanent critique within concepts of a self-regulating and postcolonial society and Paul Mondok's cheeky sculptural, site-specific anomalies in "A Symptom of Nature" (10 Dec 2011 – 7 Jan 2012).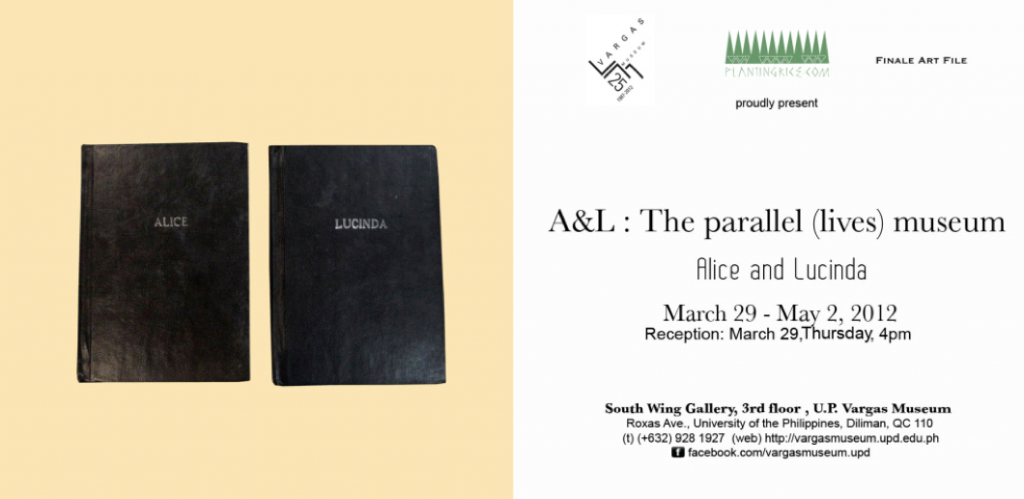 On a roll with expanding our exhibition-based curatorial collaboration, we used this framework to move on to our questions towards archival projects in the light of the perfomative, community-chronicling seminal duo Alice and Lucinda, by Lena Cobangbang and Yasmin Sison. This work was presented in two shows- "Readymade Chinagirls" (20 Mar – 15 Apr 2012) in Mo_. that also engaged emerging artists Catalina Africa and Maria Jeona Zoleta to achieve the prevalent concept of Alice and Lucinda as a creative force that make up partnerships. Planting Rice casted a critical reading of the archives of Alice and Lucinda by reading them first and foremost and repositioning practices in the early 2000's generation within the contemporary art community. "A&L: The Parallel Lives Museum" was held at the Jorge Vargas Museum(29 Mar – 2 May 2012).

Opportunities for public engagement beyond the virtual sphere were presented to us in May 2012. We were invited to speak about the ideas that surrounded the creation of our platform, its prognosis to the community at large and at the same time articulated the emerging practice of network-based repositories glocally. Sidd spoke about this in Guerilla Talks, a program by Art Asia Pacific in Art Hong Kong 2012 (19 May) while Lian discussed it in a major forum in Manila – Locus Redux (20 May) in Yuchengco Museum organized by Pananaw ng Sining Bayan. Planting Rice was also invited to discussions initiated by our peers: Hanoi/Manila-based artist/curator Merv Espina through "Negotiation Tactics" (Kanto, 16 Aug 2012) and Sydney-based Gina Fairley & Ateneto Art Gallery 's Artspeak through "Keywords" (24 Aug 2012).  Along with the group of fellow artists and curators, we spoke about local models of self-organization and technology-based practices with no physical spaces. We were asked to present the word 'Emerging' for the forum "Keywords". Here we summarized a critical and responsible framework in identifying the 'emerging artist', 'emerging practices and trends' (alternative economies, curators and biennales) as well as the emerging position of Planting Rice.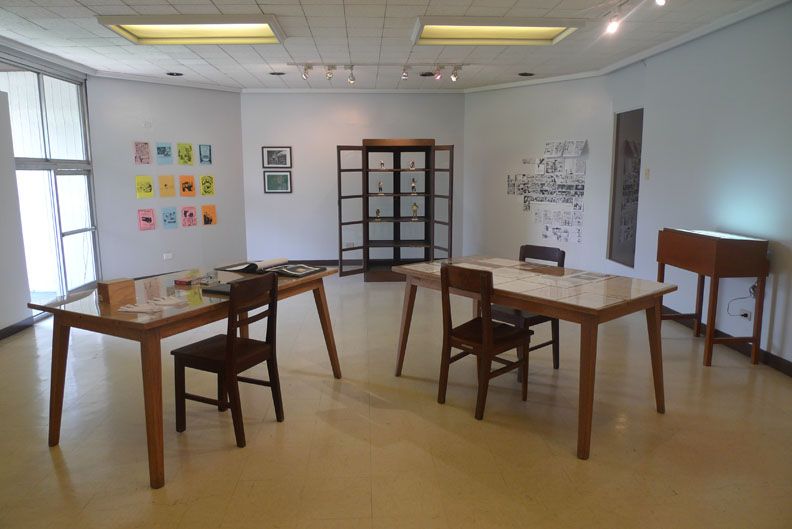 2012 allowed Planting Rice to release two newsletters that included curated content of news on specific projects by our network of artists, professionals and other archive articles. Planting Rice has taken into social media platforms such as Facebook and Twitter for regular updates of Manila and overseas art events, projects and opportunities. Within the same vein, the partnership have established the weekly ArtHop that lists the week's happenings (talks, workshops, opening receptions, film screenings, performances) every Monday.
A milestone in matters of occupying places that are non-virtual and perhaps "offsite" from our curatorial and virtual platforms is our move in First United Building, 413 Escolta Street with an emerging art space 98B COLLABoratory. It is an art deco building designed by Andres Luna de San Pedro, who is the son of Juan Luna and was one of the first practitioners of modernist and revivalist styles in the Philippines. Located on Manila's old colonial strip, the building contains a rich but inert heritage. Our goals have always been oriented at looking at different cultural infrastructures and re-potentializing spaces, hence our move to Escolta has been guided by a sense of providence. Our office is arranged in a way conducive for ongoing discussions, research for our independent press projects, and ongoing investigation around our independent curatorial work in Manila. Likewise, it is a space made welcome to our incoming visitors from our different art networks, should they need recommendations and resources on contemporary art practices in Manila. The office in the First United Building is our base for revitalization projects aimed at re-potentializing a historic landmark.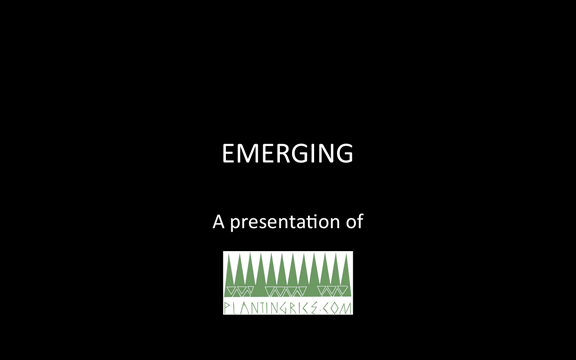 Planting Rice also established strong affiliations with similar resource-based platforms such as Malaysia's curatorial platform, Rogue particularly for their pilot project SEARCH. This project is Rogue's channel to create an index for resources and documentation on contemporary Southeast Asian art practice and development. Another partnership is with Locale from Singapore, an in-progress digital composite of online projects, directories and resources of the region's diverse contemporary art scenes. The most recent Art Asia Pacific Alamanac 2013 also reports on the rise of self-orginization (utilizing platforms of technology) in Manila, which recognizes the contribution of Planting Rice.  LIkewise, the recent exhibition at the Metropolitan Museum puts Planting Rice on the map of chronology of contemporary art in Manila near the timeline of the present.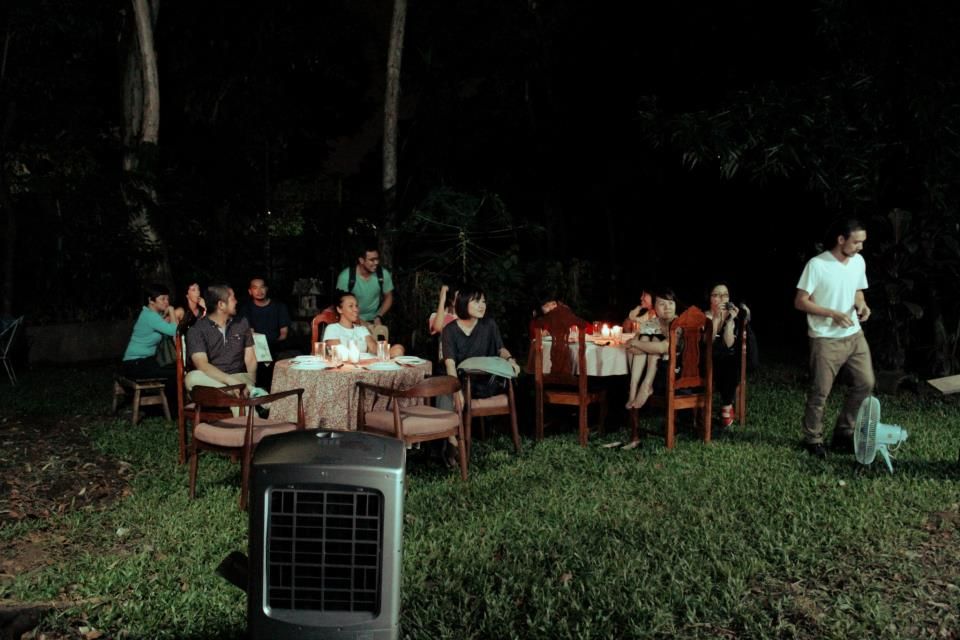 While we collaboratively roll and prepare the field for a good crop, Planting Rice's process includes seeding and harvesting independently. We maintain curatorial practices that benefit the vision of a shared network and put that very community into productive positions. 2012 saw us make use of connecting practices from Manila to Gwangju, Tokyo and Singapore. Lian was selected to participate in October 2012's World Biennale Forum that took place in Gwangju, South Korea and took the opportunity to speak about virtual and mobilizing projects that have no physical spaces in a thriving artist-run space Mite-Ugro . 2012 also got her on board the team of curators invited by the Japan Foundation. They would enable the 40th Anniversary of Japan and  Southeast Asian Collaboration through media and technology workshops and exhibitions in Jakarta, Kuala Lumpur, Manila and Bangkok happening end of 2013. Sidd got on board The Drawing Room as curatorial associate in the latter half of last year to focus on the programming between Manila and Singapore.

This year Planting Rice is looking forward to developing #ArtHop, which proved as a useful segment in connecting similar-minded professionals and art lovers to local events around Metro Manila. Inspired by this accessible, no fuss guide to happenings, We are also looking at extended guides in the form of art venue maps per city which will be launched in collaboration with Design-duo Electrolychee and Lena Cobangbang as guest editor.
In ending this report, we'd like to acknowledge the community's continued support in contributing their resources, network, information and affinity. Please keep sending news our way!