HAO Pow Wow
For years, we have been around the same circles, exhibited together in the same shows, even are lecturers in the same college, but we have not realized how similar some aspects of our careers are until we started volunteering for the same art initiative that is 98B Art COLLABoratory. Our bread and butter may differ, art directing and writing respectively, however we are both primarily visual artists, and being independent curators comes second. It is a struggle to have slashes and or's when asked about professions, but that's what brought us to the HAO Summit 2012 in Singapore after Mark Salvatus, founder of 98B, encouraged us to apply.
As stated in the call for applications, "HAO is a network and sharing event of young art managers and curators from Asia. This year, Audrey Wong and Khairuddin Hori, co-founders of HAO are hosting its third installment in partnership with The Substation…. where invited speakers and workshop leaders share knowledge on matters that affects arts and culture within the region." Interesting. The theme Culture Sub Culture piqued our curiosity even further.
Thankfully, both our applications were accepted.

The Substation in Armenian Street, Singapore.
To be quite candid, we did not know what to expect. We were sent emails and updates in preparation for the 4-day conference. The topics to be covered seemed thought-provoking. The program that was shared to us prior to our departure appeared to be jam-packed. Exciting. Still, there was a bit of apprehension from our end. Will we be at par with other participants? Will we be able to contribute anything? How will our involvement be measured? Will the information derived from the conference-proper be useful to our individual work and our concerns at 98B? These were just some of the questions that popped in our heads. Anxiety aside, we flew to Singapore ready to listen, learn and discern.
The initial meeting was a casual barbecue dinner at The Substation. Here the fellows from Singapore, Indonesia, Philippines, Malaysia, Vietnam and Thailand were able to meet. A short welcome address was given by Khairuddin Hori. He explained the brief history of HAO, the context of its conception and how it has evolved to HAO 2012. After the reception, several of the fellows (both of us included) decided to hang out a bit more. This became a post-conference habit (this was taken as an opportunity to bond and understand each one's practice/s better).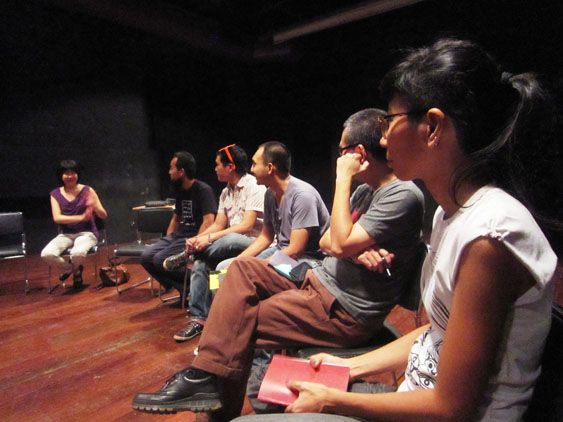 Getting to know each other.
The next couple of days were indeed replete of dialogue and activities. The schedule was tight; from 9am to 9pm. It was conducted in an informal but insightful manner. It was kicked off by Marco Kusumawijaya and Shahrul Jamili Miskon facilitating a discussion on art, religion and culture. Audrey Wong regaled us with more HAO stories. Emily J. Hoe gave a brief on The Substation. Shaiful Raisan conducted a fun workshop on Situational Situation / Improvisation. Sze Ying Goh and Grey Yeoh talked about Building Sustainable Urban living and Environment through Education, Art and Collaboration. They also expounded on the use, abuse and disabuse of collaboration—both as a word and a model. Khairuddin Hori came back and took us Paris-museum-hopping through his presentation. As we said, each day was packed.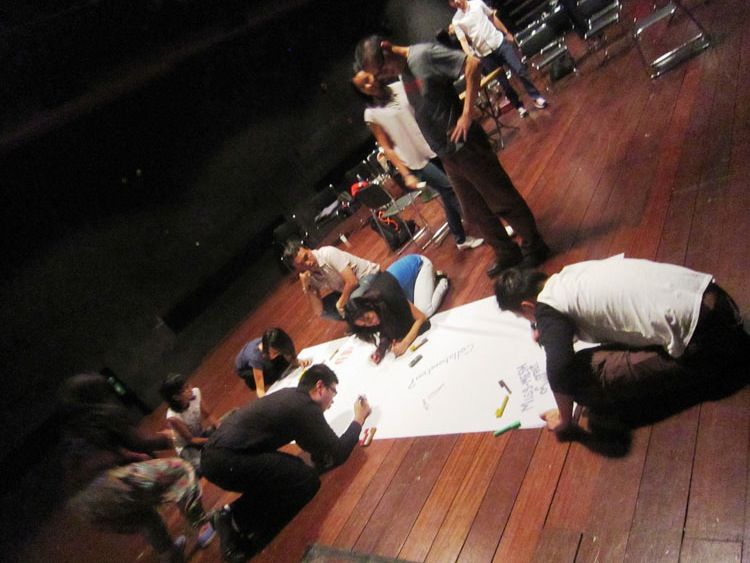 Documenting our learnings daily.
Another day was devoted to different spots across Singapore. Given that the theme was Culture Sub Culture, the field trip was aimed to view "how geographies and landscapes have shaped cultural expressions, and how these have evolved over time, from forgotten moments in history, hidden sites rich in historical and cultural resonances, to today's urban subcultures." Church of St. Theresa, The Keramat of Radin Mas, The Masjid Temenggong Daeng Cemetery, Hao Par Villa, the Reflections at Bukit Chandu and a long board shop were just some of the places we visited. Even the venue for lunch had its own story to tell. All these stops gave also us a more grounded view of Singapore. It is not all glitz, order and infrastructures emanating the "culture of success." These locales gave Singapore a charming character.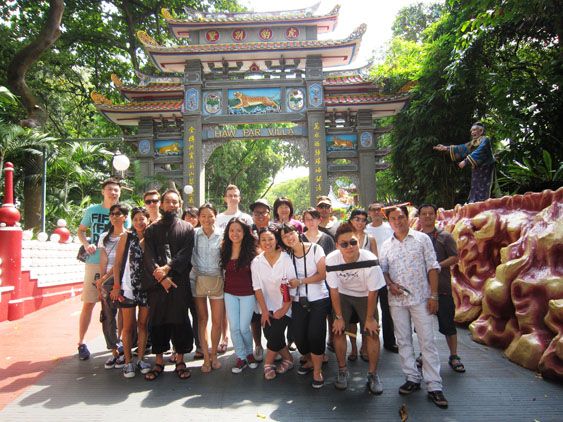 The HAO gang in Haw Par Villa.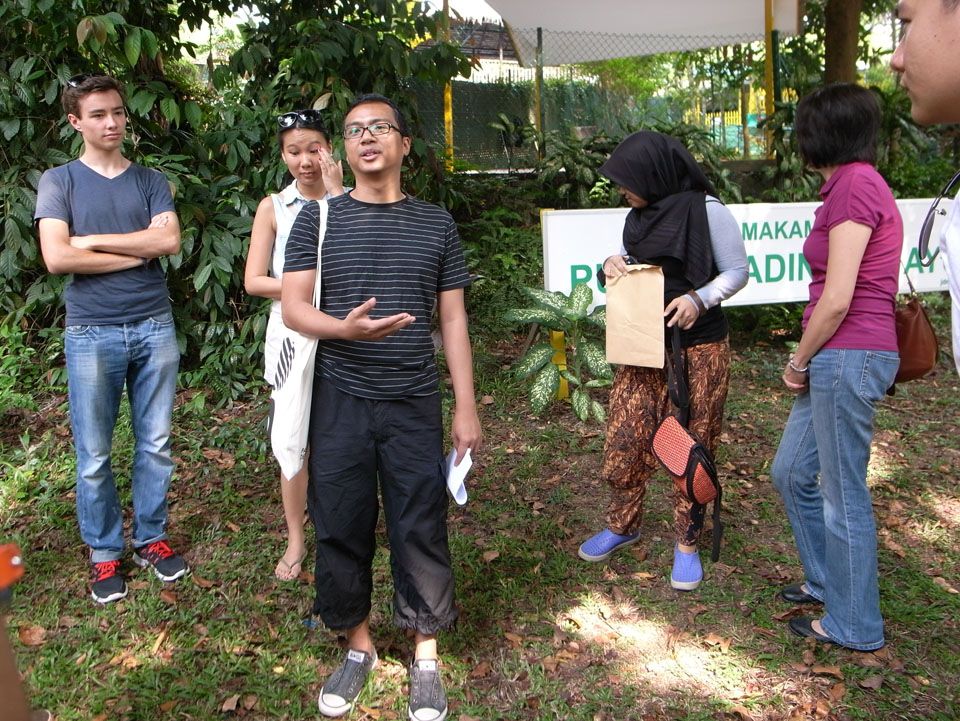 Kahi Hori explaingin the history of our next destination.
The last day was planned as a "freestyle conference platform that brings together folks interested in exploring notions of culture and subculture through art, design, architecture or philosophy." Various subjects were tackled and presented; from haircuts, art projects, coffee, to art criticism. It was a medley of discordant yet harmonious themes. As an added treat artist Chai-Hiang gave a talk about his recent projects.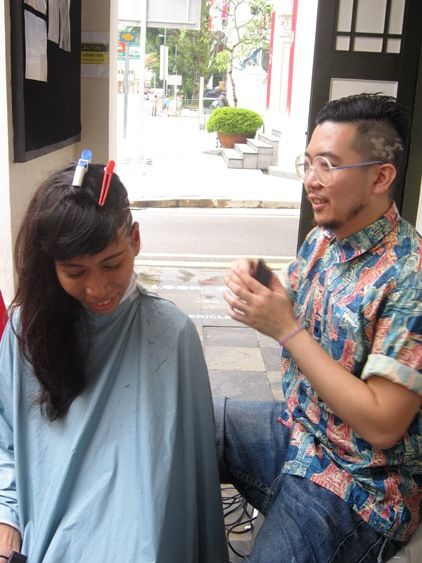 Trying out the pop-up barbershop's hair tattoo.
Throughout the 4-day program administered by the efficient Debrah Jiang, participants were encouraged to speak their minds and contribute to the discourse. It delivered on its promise, that of being "a professional development, mentorship and networking 'retreat' program for young arts and cultural workers in Southeast Asia." After each session, there was a poignant recap of what transpired. Verbally and visually we contemplated on the day's events. This process of deliberation filtered through opinions, viewpoints and realizations in relation to the resultant learning.
So what have we absorbed from all this?
We are part of a bigger community of art practitioners and cultural workers. Our realities are not that different from our Asian neighbors. As such we can take care of each other and learn from each other's experiences. Our shared history and geographic al connections must be given more importance for despite our cultural differences, we also have huge similarities. It is from these convergence and divergence that we can obtain knowledge for peer to peer learning. This is an integral part of recognizing our shared narratives. These are past and present chronicles that can in fact bring us together. Doing so will inevitably lead to a co-production of knowledge. Through this network of open dialogue and distribution, meaningful collaborations can ensue. Together we can set a framework and manage our expectations; sharing equal credit, responsibility and accountability to either success or failure.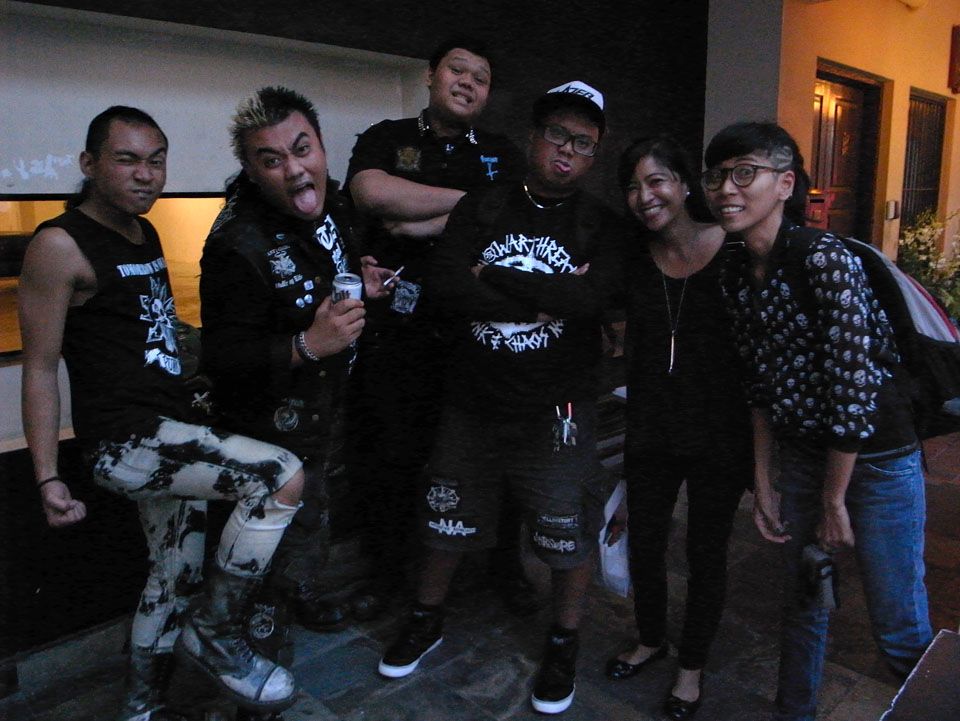 Buddying up with thte local punks.
The organizers stated it quite clearly: "HAO Summit plugs a gap in the Southeast Asian art scene: recognizing that while the arts industry has undergone a boom in recent years, there remain few professional development opportunities for arts and culture workers." While there may not be a lot of prospects for training or advancement we can take charge of the situation and collectively find ways to surmount this obstacle.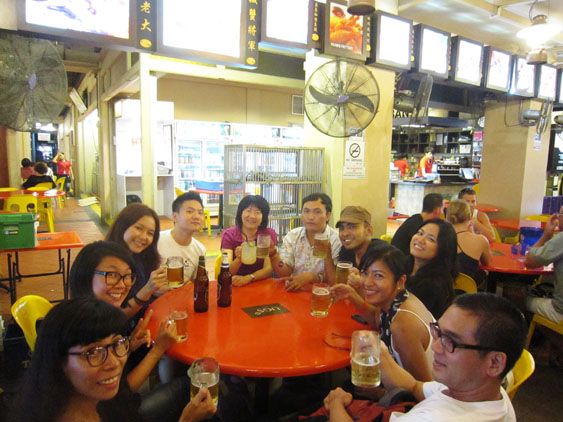 Capping every night with good conversation and beer.
Whether it's by sheer luck, calling or destiny, we found ourselves enmeshed. We went back to Manila desirous and expectant for more undertakings of this nature. To say that it was valuable is an understatement.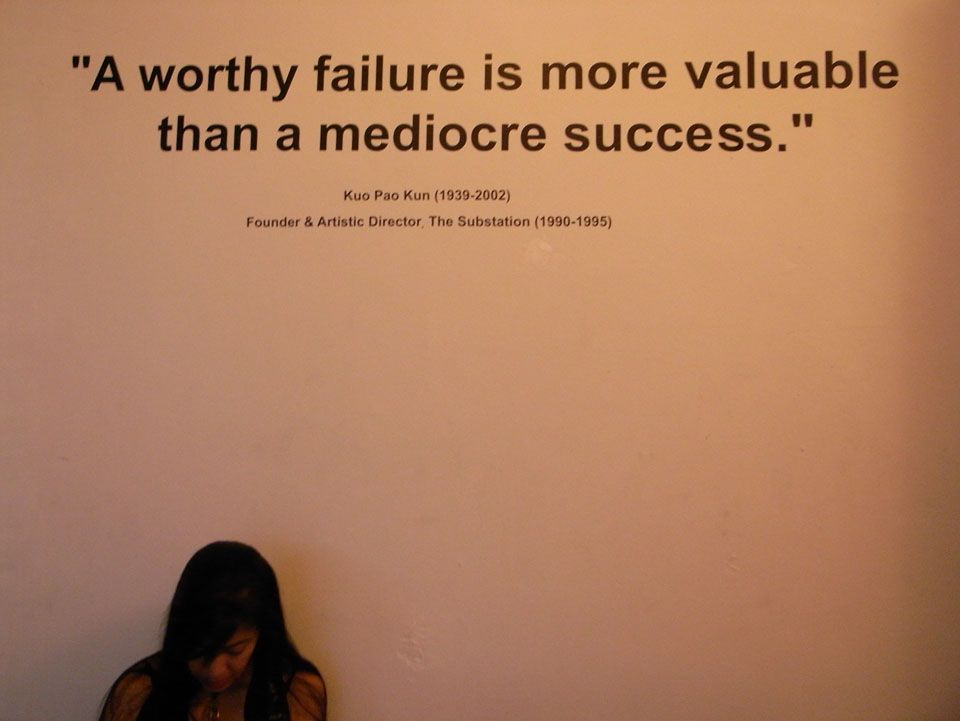 About Marika B. Constantino
Marika B. Constantino is a visual artist who has participated in significant exhibitions in the Philippines and abroad. As a freelance writer, she has contributed to a number of globally distributed publications. She shares her various experiences in the art practice to a wider audience as an educator and an independent curator. Her early exposure to art and her boundless fascination for the creative process resulted with a degree from the UP College of Architecture to further studies at the UP College of Fine Arts, with Art History as her major. Constantino is continually striving to strike the balance between the cerebral, conceptual and experiential aspects of art with life in general, thus, fuelling her fervent passion for artistic endeavors.
About Con Cabrera
Con Cabrera was born and raised in Pampanga, Philippines and is a graduate of Advertising Arts at the University of Santo Tomas. She currently lives in Quezon City while working as a freelance art director and lecturer. She's a member of the activist group Artists' ARREST (Artists Response to the Call for Social Change and Transformation) since 2005. For the past couple of years, she has participated in a number of group exhibitions in Manila and had her first solo exhibition in 2011. Cabrera launched her first project as an independent curator this year involving twenty-three women artists. She is currently busy with the research and development of 98B Art Lab's Open Library. She is a fellow in the recently concluded HAO Summit in Singapore.
Author:
Con Cabrera and Marika Constantino