Interview with artist Gina Osterloh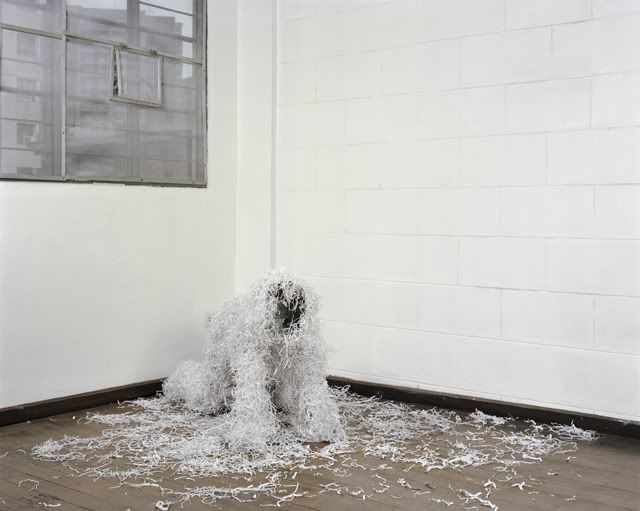 "Blank Attempt Where My Face Fell Off", 2008. Lambda Photograph, 11 x 14 inches.
Julio César Morales: You began as a graffiti artist over a decade ago, and have since developed a complicated and diverse practice with photography at the center. How do you see a connection with your performances for the camera and the anonymity of street graffiti?
Gina Osterloh: In terms of anonymity, no. However, in terms of investigating repetition—specifically slippage through repetition, hiccups in hegemony, and repetition in terms of mimicry—absolutely. I am also interested in repetition and mimicry as a basic building block of language. Since I was involved in graffiti some time ago, it's easier for me to see the connections now. Besides formal concerns such as color, it introduced me to working with a grid structure (now I have the grid on the ground glass of my 4x5 camera),as well as the importance of representation and perception through the photograph. Then it was often about "the flick" or the photo of the piece, not the piece itself, which would circulate. It wasn't until very recently when I made works such as Wide Group Dynamic and Anonymous Front (Group Threshold) that a conscious awareness of graffiti's influence entered the work. I was very excited to introduce the primer gray spray paint dot pattern into these works. Even in the final prints, I decided to go with an inkjet process instead of a richer C-print. It's uncanny how the spray of the inkjet rendered the spray of the dots more accurately.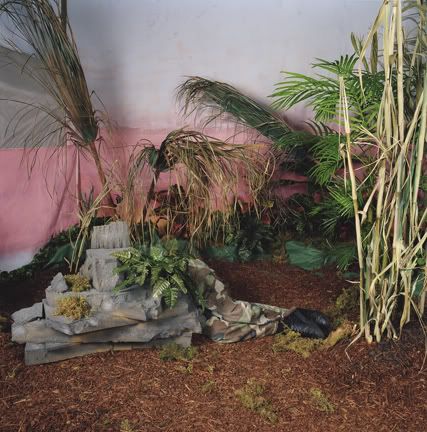 "Burnt Out ,Died, Got Some Rest #1", 2005. Lightjet Photograph, 40 x 40 inches.
JCM: Can you describe the progression from your early work, such as Somewhere Tropical, to the more recent "Body Prop" series?
GO: Somewhere Tropical started as a response to portraiture—a frustration with portraiture's innate ability to capture, summarize, and name its subjects. It also started with an infatuation with the Los Angeles landscape, and the landscape my mother would describe of the Philippines, of growing up in the tropics. Each was always viewed through a filter of sorts - the polluted LA skyline, stories, or film.  Somewhere Tropical became a psyche wall, a prop in itself, but also something very real. At first my use of camouflage was quite literal, i.e. I would put on camouflage pants (also to reference my mother's experience of war, as a child in WWII Philippines).
In the early photographs, I used military camouflage as a way to splinter the ground where the subject stands, to disrupt the visual field of the portrait. In the end however, I realized the poetics of military camouflage are overused and too familiar. I wanted to take the language of camouflage beyond military reference.

"Untitled (Turquoise Room #5)", 2007. Lightjet on Dibond, 48 x 60 inches.
JCM: To what extent does the idea of the gaze influence your work and how then does camouflage function?
GO: From Somewhere Tropical, I created the "Turquoise Room" series. Again, thinking of my infatuation with the clichéd LA sunset landscape and the tropics, it was about a visceral, yet indeterminate relationship between the body and a color field. The set, the room became a color field. Camouflage is really just repetition; it is mimicry, the copy. But the copy, or response, is never perfect. Through repetition or sameness, difference emerges. In the most pared down sense, what does the line between a gesture and non-gesture look like? Camouflage is also a strategy of anonymity. Again in portraiture, it is a way to disrupt subject identification. Close to this strategy is my use of the blank—the blotting out, turning away, masking of the face, or entire figure. Body Prop asks for the repetition of the anonymous throughout the visual field, from corner to corner of the picture plane—on the walls of the room.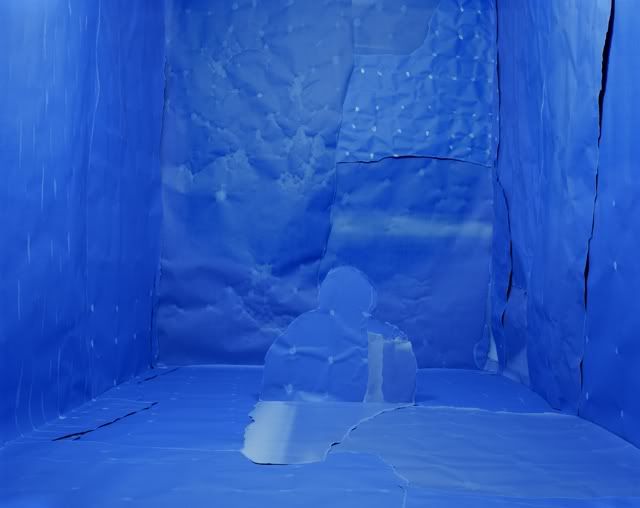 "Reflection", 2011. Archival pigment print with UV laminate, 11.5 x 14.5 inches.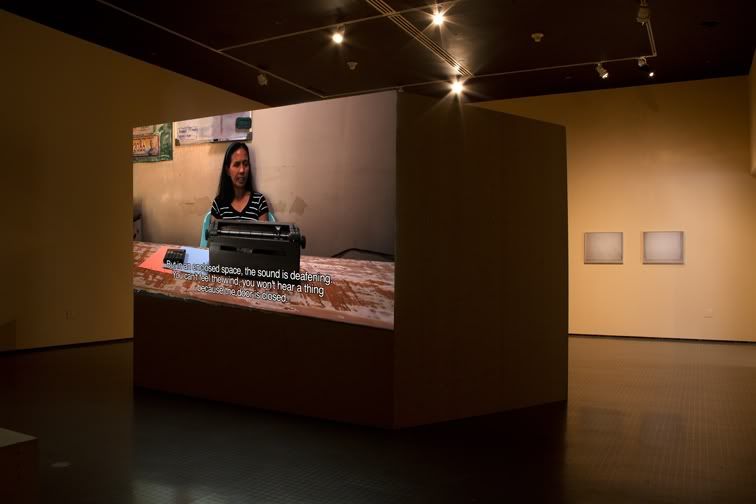 Anonymous Front (Installation shot). YBCA, 2012.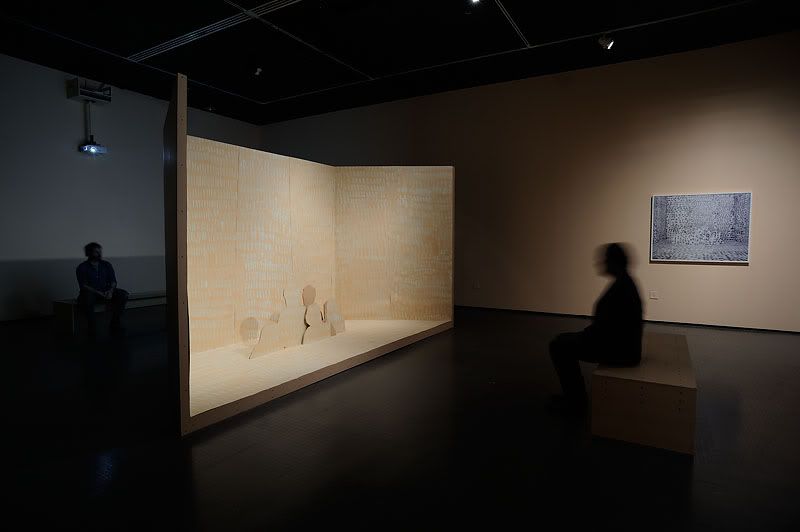 Anonymous Front (Installation shot). YBCA, 2012.
JCM: The 1990 Louvre exhibition, Memories of the Blind, curated by Jacques Derrida explored issues of vision, blindness, self-representation, and their relation to drawing, while offering detailed readings of an extraordinary collection of images. Was the exhibition or essay an influence on your new work, and if so, how?
GO: I can only hope so, at least in discourse. Derrida's accompanying essay to the exhibition (a book-long essay without chapter breaks) is a massive undertaking of drawings and representations of the blind; the gesture of the blind hand; depictions of hand gestures also addressing the gaze, i.e Medusa mostly from the Louvre collection; metaphors of the blind through Greek mythology and the bible; drawings and paintings such as Christ Healing a Blind Man by Theodule Ribot and Lucas Van Leyden; meticulous writing about every gesture, turn of head, posture in each work. Derrida writes on questions of visibility: who is seen, the seer, the gaze, memory, and the self-portrait.
In terms of my photographs, I am interested in Derrida's poetics of the mask, the gaze, the seer, who is seen, the signifying space between the seer and the blind.
In terms of the New Vision video, I am interested in Derrida's metaphors of blindness from the perspective of the writer, seeing through hands, fingertips as eyes. With this said, in New Vision, one of the main objectives of the project is for the blind to speak; for the blind to be seen. In many ways the film (a visual project) is still for a seeing audience. However, the voice of the blind is the basis, the structure of the film. In contrast to my photographs, which address perception and identity through the most pared down forms of visibility, and which borrow strategies of abstraction, New Vision addresses perception and identity through the real; real accounts of blindness, physical blindness. In the film, all of this is embedded within a backdrop of labor. Massage therapy being a state-recognized, very respectable profession for the blind in the Philippines; yet it is one of the only ones.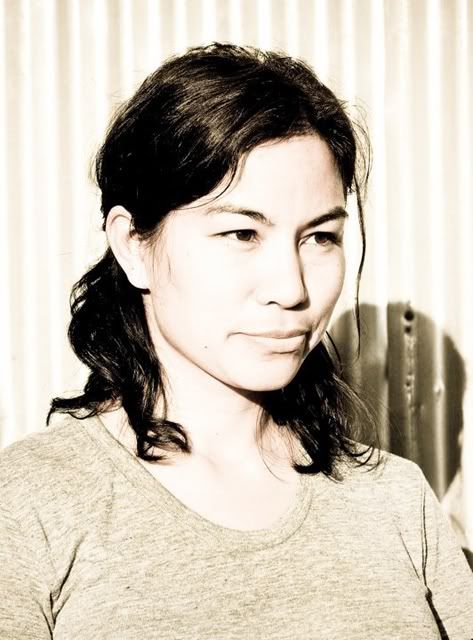 Gina Osterloh photographed by MM Yu
About Gina Osterloh
Gina Osterloh is an artist and educator based in Los Angeles, California. Her photographic practice combines elements of sculpture, performance, and installation. Osterloh's work investigates operations of mimicry and perception within the photographic plane – to form new ground between abstraction and identity. Upcoming projects include moving her entire studio practice into Los Angeles Contemporary Exhibitions for GROUP DYNAMIC AND IMPROPER LIGHT (June-September 2012). Her work will also be exhibited in Asia Serendipity, at Photo Espagña, curated by Fumio Nanjo, director of the Mori Museum, Tokyo. She recently participated the Woodstock Center for Photography, Artist In Residence Program September 2011, and currently (January 21-April 7 2012) has a solo exhibition at Yerba Buena Center for the Arts, San Francisco titled ANONYMOUS FRONT. In 2007-2008, Osterloh was a Fulbright Scholar recipient to the Philippines, during which she created a new body of photographs that depicted spaces made from everyday office paper used in Manila. During her Fulbright, Osterloh also researched conceptual artist practices in the Philippines; and at Monte Vista Projects LA, curated the exhibition Minimum Yields Maximum that presented conceptual and political works from the Philippines, Vietnam, and California. Other awards include a Durfee Foundation ARC Grant 2010 and a Completion Grant by Silverlens Foundation, Philippines 2008. She has exhibited widely including Hong Kong, Manila, Kuala Lumpur, Singapore, Indonesia, Los Angeles, San Francisco, and New York City. Reviews of her work include Art in America, Hyphen Magazine, Art Asia Pacific, Asian Art News, Art Monthly Australia, Art on Paper, Giant Robot, the LA Times, and Art Forum Online. Osterloh received her BA in Media Studies from DePaul University and a MFA in Studio Art from University of California, Irvine.
Gina Osterloh's work is represented by Silverlens Gallery, Manila Philippines and François Ghebaly Gallery, Los Angeles.
About the author
Julio César Morales is an artist, educator and curator currently working both individually and collaboratively. Morales utilizes a range of media including photography, video, and printed and digital media to make conceptual projects that address the productive friction that occurs in trans-cultural territories. Morales' work consistently explores issues of labor, memory, surveillance technologies and identity strategies. Morales teaches and creates art in a variety of settings, from juvenile halls and probation offices to museums, art colleges, alternative non-profit institutions. His work has been shown at 2009 Lyon Biennale; (Lyon, France), 2008 and 2004 San Juan Triennial (San Juan, Puerto Rico); 2007 Istanbul Biennale; Los Angeles County Art Museum (Los Angeles); 2006 Singapore Biennale; Frankfurter Kunstverein (Frankfurt, Germany); Swiss Cultural Center (Paris, France); The Rooseum Museum of Art (Malmo, Sweden); Peres Projects (Los Angeles); Fototeca de Havana (Cuba); Harris Lieberman Gallery (New York City); Museo Tamayo (Mexico City) and UCLA Hammer Museum (Los Angeles). Morales is also the founder of Queens Nails Annex in San Francisco and currently adjunct curator at Yerba Buena Center for The Arts.