Louise Marcelino's Seoul Encounters: Gyeonggi Creation Center
From June to December 2011, me and colleagues from the National Museum of Contemporary Art, Korea visited artist studios as part of its International Fellowship Program. The studio visits acquainted us with contemporary art practices in Seoul National Capital Area (Seoul, Incheon, and Gyeonggi province), familiarized us with local and international artists living in Seoul, and trailed us to our individual research paths.
During our six-month residency, we visited the following studios: Changdong and Goyang Studios, Incheon Art Platform, Gyeonggi Creation Center, Nanji Art Studio, and Seoul Art Space Seongbuk. The visits helped me a lot with my research since I was also interested in institutional discourse, particularly in the ways museums and art spaces develop their programs and influence artistic production. The dynamics by which residency programs operate gives insight on how institutional lines mediate and create a public for art. The degree of support to artists likewise suggests how certain practices are reinforced and how artists are envisioned in local and international contexts.
In this entry, I share my recollections of Gyeonggi Creation Center (GCC), a residency complex located in the central western part of the Korean peninsula.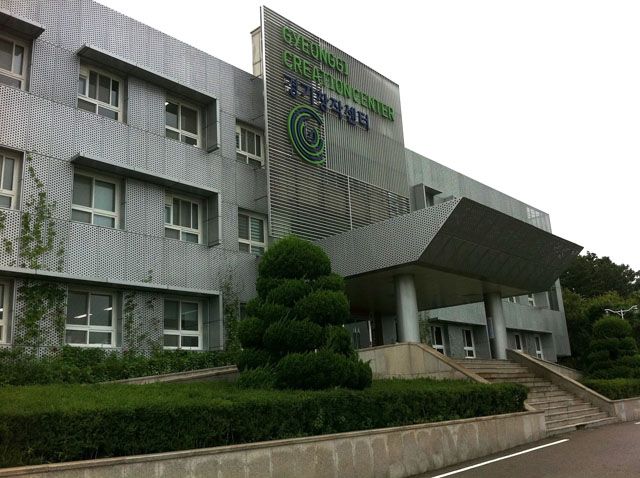 Established in 2009, GCC receives support from the Gyeonggi Cultural Foundation, along with other institutions located in the same region (e.g. Nam June Paik Art Center). It is also a feeder of the Gyeonggi Museum of Modern Art. Although GCC is a fairly new establishment, its programs are quite innovative. GCC is implicated within a set of contexts with which artists may draw inspiration from. The physical surroundings of GCC (Seongam Island of Ansan City and Daebu) and Gyeonggi's socio-political conditions come at odds with the local government's current agenda of fostering a "future-oriented cultural paradigm". Such tension is only one of the many apprehended by artists-in-residence, and oftentimes in conjunction with the local community.
We visited GCC twice. Our first visit was during the Open Studio in August, where we met with artists and looked at individual studios and group exhibitions. There are 24 integrated art studios in the Convergence Building. It is one of the seven buildings in GCC that houses offices, lecture rooms, library, and an exhibition hall.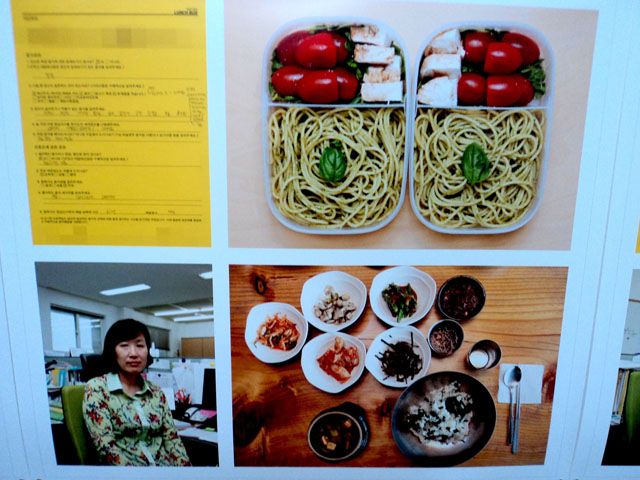 Local and international artists on Creative Residency spend 3 months to a year in GCC. They are given their own studio and living space, with a communal kitchen and bath on each floor. Photo also shows the "Feeder Project" of Nurri Kim. She prepared and shared meals with artists and staff of the GCC, based on interviews and surveys she conducted about their individual food choices. Kim comments on how such preferences suggest aspects of identity.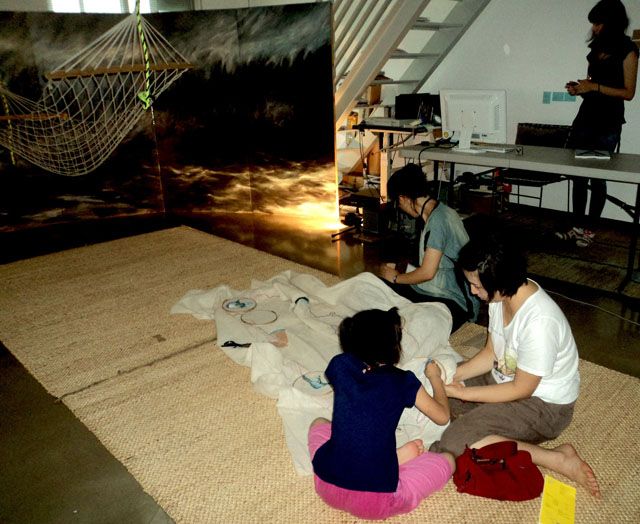 Artist Soyoung Kang used a portion of her studio space as extension of her work "Dragon's Teeth".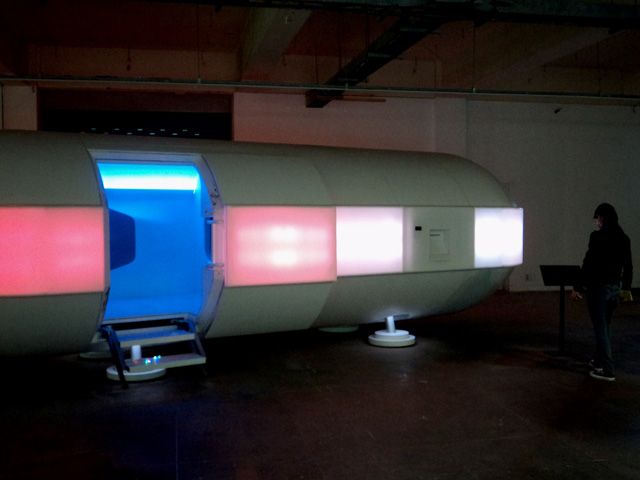 Installation view of Yeondoo Jung's "Time Capsule".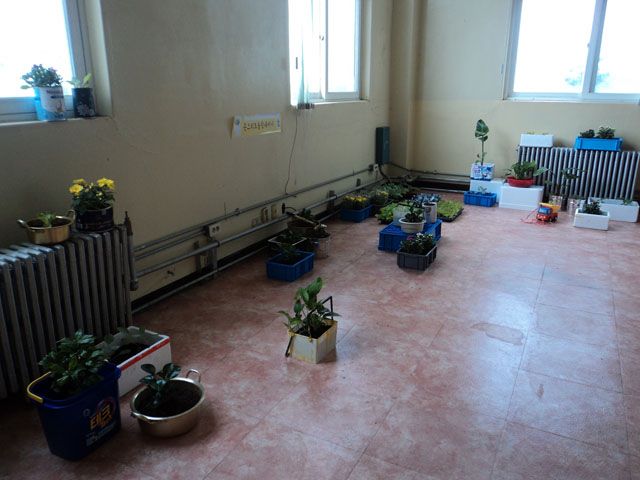 Apart from the Open Studio, exhibitions, performances, and publications are some of the expected output of artists in the residency. Artists discuss with curators, academics, and members from the local community as part of the mentorship program.
Artists have the liberty to transform the rooms of the building into exhibition spaces. The remodeled building was the former Gyeonggi Vocational School. Photo shows GA-OK's Farm Project. There are several levels in this building, some of which were left empty. Finding was part of the viewer's experience of the site.
Selected resident artists participated in the Education Program of the GCC. During the open studio, the exhibition Art and Education Program was also on view. It showed the works of artists who collaborated with young participants. Artists held workshops at the Daebu and Daenam elementary schools, both partner institutions of GCC. The exhibition included artworks by children that were inspired from the artists' individual projects.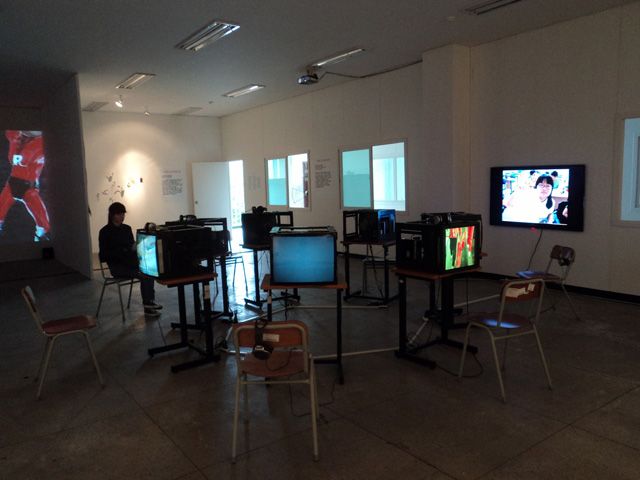 In the Local Collaboration Program, artists engaged with the local community to discuss issues pertinent to the socio-economic, political, and cultural life of the residents of Daebu. The artists later proposed design projects or initiated revitalization activities. The outcome of the collaboration was presented in an exhibition.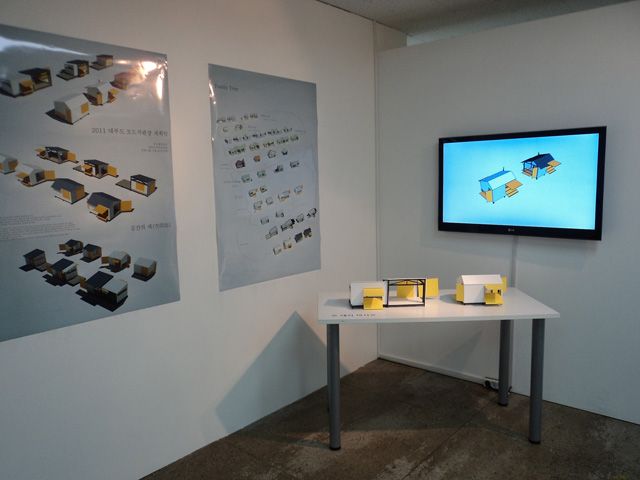 The above photo shows documentation of the Daebu-do Grape Kiosk Project. It was conceptualized by a group of GCC artists Jung Ingyo, et al. They designed open structure kiosks for storing and selling grapes. The latter is ubiquitous in Daebu and an important source ofvlivelihood in the area. Another group of artists designed a modern type of packaging for Laver, or locally produced black seaweed. Farmers selected the design prototype from a number of samples created, which will later be used for Ansan City's Laver distribution. Other group of GCC artists organized a photo club which they called Daebu-do Photo Mania Club. It is comprised of 13 residents of Daebu Island who regularly meet up to record scenes important to the daily life of the island.
To cap off our Open Studio visit, we sat down for a public lecture by Ute Meta Bauer, a distinguished curator and professor of visual arts, who also happens to be one of the critics and advisors of GCC. Her lecture, which she titled Do It Yourself focused on exhibitions curated by artists during the 20th century. She pointed out how such activity revolutionized the ways people viewed and understood art.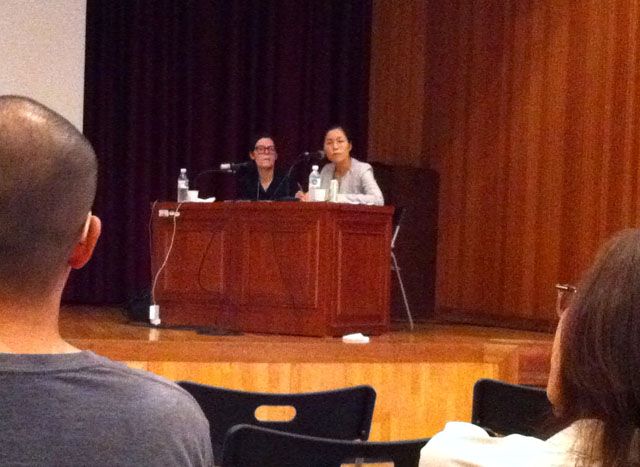 It was in cold November when we revisited GCC. While some artists remained, there was a new set of artists just beginning or in the middle of their residencies. We viewed a group exhibition at the Main Hall and an artist's intervention at the rooftop of three buildings.
It was a quiet visit at that time. Still, artists leave behind a deep sensitivity of place, traces of a strong presence felt by those who come in its wake.

Group exhibition at the Convergence Building Exhibition Hall by Constanza Piaggio, Lau Hok Shing, and Rizwan Mirza.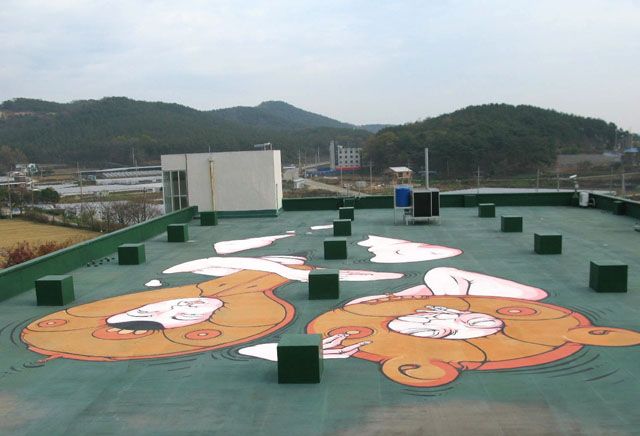 Santiago Morilla's "Water Beacons".
About the author
Louise Anne Marcelino (b. 1984) is a Museum Researcher at the Vargas Museum, University of the Philippines. She is received her bachelor's degree in Art Studies magna cum laude in 2007 and is currently a graduate student of Museum Studies in the same university. In 2011, she was a research fellow at the National Museum of Contemporary Art, Korea. Her research interests include systems of representation (museums, heritage houses, monuments) in cities (Marikina City and Quezon City, Philippines); artist-run spaces and initiatives; as well as museum education. She will present her work about Marikina City at the Netherlands Architecture Institute for the conference Museums and Communities: The Heritage of Belonging organized by the Erasmus University, Rotterdam on November 2012.