Norberto "Peewee" Roldan and the Guggenheim UBS MAP Global Art Initiative
Patricia Cariño Interviews Norberto "Peewee" Roldan, April 3, 2013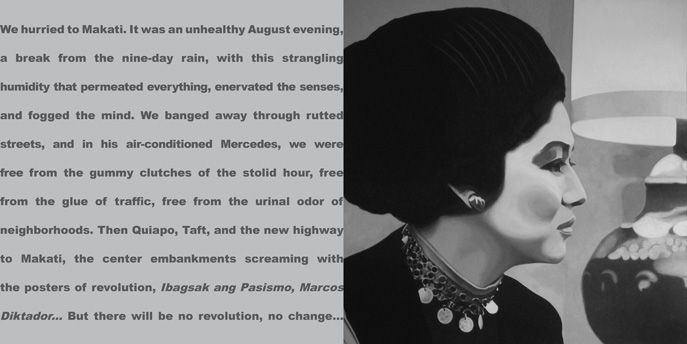 Norberto Roldan, First Lady, 2012, Oil and acrylic on canvas, diptych 6 x 12 feet composite
Norberto "Peewee" Roldan is an artist and cultural activist from the Philippines and the co-founder and current director of Green Papaya Art Projects, an independent art initiative based in Manila. His work, F-16 (2012), is currently on view in No Country: Contemporary Art for South and Southeast Asia, an exhibition curated by June Yap at the Guggenheim Museum. "No Country" is the first installment of the Guggenheim UBS MAP Global Art Initiative, a three-year effort to focus on contemporary art in three geographic regions – South and Southeast Asia, Latin America, and the Middle East and North Africa. As part of this initiative, the works from the participating artists will be acquired for the Guggenheim permanent collection. Poklong Anading is the only other Filipino artist who was chosen to participate in the project.
Patricia Cariño: Congratulations on your work being acquired by the Guggenheim, Peewee. When asked about your thoughts on participating with this project, you shared in an interview with spot.ph [1], that it was a privilege and an honor to represent one's country and yet, "on the other hand, it carries with it a corresponding responsibility and the anxiety of not being able to measure up to certain expectations as selections are always contentious." Can you expand on what you mean by this?

Norberto Roldan, White Love, Love White, 2003, Installation with digital print on nylon fabric and lighting, over-all dimensions variable, banner only: 9 x 20 feet
Norberto Roldan: When one gets selected from a huge community of artists, there will always be some questions as to how the research and selection process was conducted. Metro Manila is a vast metropolis composed of about 12 cities with a population of about 12 million and with disparate art communities thriving in each city. The main thoroughfares are always clogged up with traffic. The climate all year round is hot and humid and the absence of an efficient public transport system make it a daunting task for researchers, scholars, and academics to touch base with a wider group of artists on a one week mission. And so, while it is a great privilege getting selected under these circumstances, it also carries with it some kind of a responsibility not to look and sound stupid whenever you conduct yourself in an interview like this since you're aware that the national flag flutters behind your back as some obligatory "country representative" even in a "No Country" discourse like the Guggenheim exhibition.
PC: A lot of your work is installation or sculptural based. You use objects within other spaces, like old crates. Curator Joselina Cruz once described you as a "collector" of sorts, accumulating various objects and trinkets [2]. Your work at the Guggenheim is a painting, but I see many similarities between this and your sculptural works. Motifs of recalling memory, using archives of the colonial past, and religion are just a few. Can you describe F-16 and expand on this idea of collecting/being a collector in your practice?
NR: I don't differentiate my paintings from my assemblages and constructions given my predisposition to using found objects. My paintings, though painted in oil on canvas in a photo-realist style, are likewise constructed with found images and found texts. These materials reflect my collecting habit and are part of my ongoing archival project. I am interested in how to appropriate them and present them in different contexts and draw accidental narratives out of them.
F-16 is an ongoing observation on how geopolitics has not changed over the years and how the idea of a superpower is still very much upheld. It is also a personal reflection on how we, Filipinos, harbored this love-hate relationship with America. We hate how the U.S. Government treated the Philippine Islands as a country inhabited by savage people. At the same time we used to be enamored by America as a land of milk and honey and loved the American way of life. Thank God, this mentality has changed, albeit slowly over the years.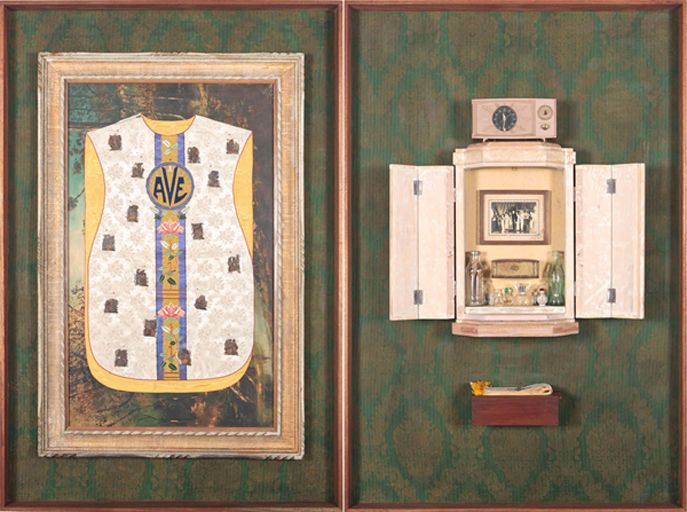 Norberto Roldan, My Brother and the Order of the Knights of the Moonshadows, 2010, Assemblage with old Roman chusable and found objects, diptych 6 x 8 feet composite
PC: What are your thoughts on the exhibition title, "No Country?" Specifically, understanding this theme in relation to your work?
NR: When you look at the whole Southeast Asia, the Philippines appears to be in a very unique situation. First, because it is predominantly a Catholic country and second, because it is the most Westernized among its Association of Southeast Asian Nations (ASEAN) neighbors – a legacy left behind by Spanish and American imperialism. I would like to imagine that "No Country" relates with our ambivalence to be Asian and Western at the same time, or to be able to work in some foreign land while maintaining a home and family in the motherland. Although my work does not address the Philippine Diaspora in particular, F-16 is a work that blurs the border between two countries and therefore resonates with the title, "No Country."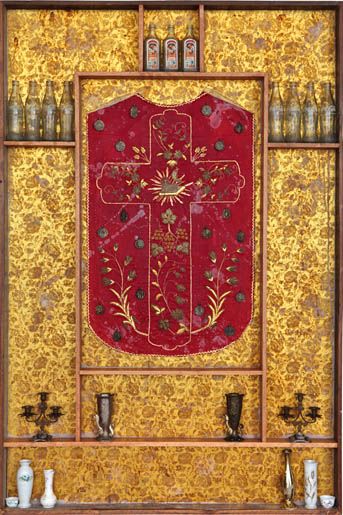 Norberto Roldan, Invisibilitus Est 4, 2010, Assemblage with old Roman chasuble and found objects, 4 x 6 feet
PC: Expanding on the your comment about the Diaspora, how do you think these two works, F-16 and Poklong Anading's Counter Acts (2004) in this exhibition will be read within the context of a U.S. arts institution? What about how it will be understood within the larger narrative of Filipino culture in the States?
NR: There's no hiding the fact that F-16 is a work critical of U.S. foreign policy. I can't speak for Poklong but to me his Counter Acts may be taken as a deflection or resistance to something foreign or some dominant force although there is a more conceptual foregrounding to it. So I must say that I'm surprised the curators at Guggenheim were open to such criticism and this makes the acquisition all the more engaging and significant.
I'd like to consider our participation in the Guggenheim UBS-MAP initiative as part of the ongoing engagement with Philippine contemporary art and the history of Filipino communities in the U.S. It was preceded by many earlier initiatives like the survey show At Home and Abroad at the Asian Art Museum in San Francisco in 1988 and Memories of Over-development: Diaspora in Philippine Contemporary Art at the UC Irvine Gallery (California) in 1990. Also Santiago Bose and Carlos Villa's collaboration at Pacific Bridge in Oakland, the seminal exhibitions of Philippine contemporary art at Babilonia 1808 in Berkeley, and the Galleon Trade project at Yerba Buena Center for the Arts in San Francisco must have all contributed to the developing narrative of Philippine arts and culture in the U.S. The recent exhibition, Phantoms of Asia (Poklong Anading and Ringo Bunoan) at the Asian Art Museum in San Francisco and the series of exhibitions Bastards of Misrepresentation curated by Manuel Ocampo at several venues in New York which opened a few weeks before "No Country" easily come to mind as part of this representation and ongoing discourse.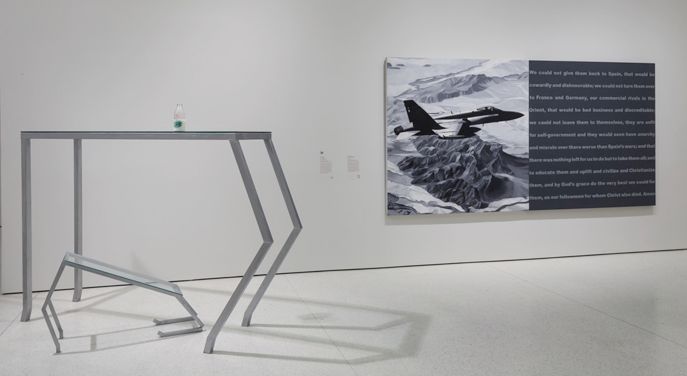 Installation view: No Country: Contemporary Art for South and Southeast Asia, Solomon R. Guggenheim Museum, New York, 2013, Photo: David Heald © Solomon R. Guggenheim Foundation
[1] Joanna Manalastas, "Three Questions for Celebrated Contemporary Artist, Norberto "Peewee" Roldan," Spot.Ph February 1, 2013
[2] "Peewee Roldan Collects New Histories," Snippets from the Manila Art Scene, April 27, 2011
About the author
Patricia-Jesikka M. Cariño is a curator and arts professional. She is pursuing her Master's degree in the Curatorial Practice program at California College of the Arts in San Francisco, CA. Her research interests revolve around Philippine Diaspora, American Identity, and post-colonial discourse as it relates to Contemporary Art. She has worked and interned in various cultural institutions including the Oakland Museum of California (Oakland, CA), Bronx Museum of the Arts (Bronx, NY), Haines Gallery (San Francisco, CA), and Intersection for the Arts (San Francisco, CA). Born in Manila, Philippines, she was raised in Bremerton, WA and Oceanside, CA. In 2010, Cariño earned her B.A. in History of Art from the University of California, Berkeley.