Once Rendered Invisible: Notes on Philippine Social Realism (2007)
Notes on Vantage: March 14 to 27, 2007.  
In this riotous circus season of Philippine elections, the weather-worn stories of non-privilege (bare-bones poverty, a thinning medical and education labor pool, involuntary disappearances, unsolved drive-by executions, the shrinking pan de sal) easily get shoved into distended sideshow oblivion. 'Round this time of the year, anyone but anyone's disempowered sob story gets summarily chalked up as old hat in the sorry tale that cut-throat living hereabouts has become. Yet it is precisely in the midst of that deadening cacophony that the artist's proverbial refusal to play along by sporting a masked, jesterly grin becomes compelling – in training eyes and minds on what has ceased to be jarring either because truth has become truism or comes in an avalanche of muck.
For some three decades now, the politically charged sphere that the individual and collective practices of visual artists of 3Anggulo (Pablo Baen Santos, Antipas Delotavo, and Renato Habulan) opted into has been wrought through the ebb and tide of arbitrary artworld taste. Once rendered invisible in the chronicles of Philippine art history, that is, in the heyday of Philippine modernism, then gaining clout in the post-Marcos decades when social realism (SR) rode on a heady democratic wave of global realignments Baen Santos, Delotavo, and Habulan's generation of social realists eventually did gain palatability in the international and national art circuits, literally painting through streaks of apathy and acclaim in their attempts to find audiences for their work, even as seeking sympathetic minds and eyes were clearly not their only pre-occupation. Seeing this type of practice go through the wringer affords students of Philippine culture hindsight of an invaluable sort. Expressly so since this particular showing demonstrates these artists' ability to articulate oppositional affinities amidst a persistently murky social order but also because the exhibit takes place not completely coincidentally with such visibly ominous parallels as the allied artist-initiated traveling show, Tutok (Perspektiba,Dos por Dso and,Pasang Masid) and the coming of age of a subsequent generation of later, 'post' social realists exhibiting in the same physical space weeks before this exhibition came to pass.
Arguably a full generation after venerable critic Alice Guillermo excavated their practice from the once inhospitable annals of Philippine art, we find Baen Santos, Delotavo, and Habulan coming together to re-assert their presence in a creative sphere of deja vu, where artists of their age and persuasion may have grown cynical and white haired while the same basic sectors (peasant/labor) continue to bear the brunt of elite maneuverings and powergrabs, among other many historical injustices of centuries past. With advocacies frighteningly familiar and even candidates' surnames ringing a bell, these artists along with 3Anggulo's coordinator, Jose Tence Ruiz, find themselves still plugging at their craft amidst a world plagued by deep-seated chronic ills. After the unarguable urgency of martial law had lifted, the early post-Marcos years brought a re-assessment of the efficacy of visual tactics, and a perceptible change in semiotic play took place so much so that political messages could no longer be couched in reductive language nor hackneyed clenched-fist rhetoric. It was then that these and other Pinoy social realists confronted an artistic détente of sorts. Practically overnight, the once indifferent if not hostile market and critical validation streams had shifted gears, turning amiable to their ilk. Almost suddenly, they had become the unlikely, albeit passing, fancies of local media and visiting curators.
And so, at this juncture, a little over a decade hence, it might only be fitting that the wordplay that '3Anggulo' affords us befits the revisitings, re-readings, and pining for new answers that the generally messy business of thinking through complexity, which living in this country brings. That is, if we can agree to some degree that coming after their arguably extended period of local and international art celebre plateaued, perhaps for the social realists (and this is by no means the only artists in the SR troupe), this is as poignant a time as any for conceptual and artistic re-accounting, of attempting to keep that edge when artful bite is menacingly sullied by critical recognition.
Again, this is not to say that the socio-economic chaos that birthed these individual artists' practices had since magically morphed into everyday Pinoy utopia. Present exhibit title articulates this clearly enough. It is just that, now that the grand 'old' men of social realism have come to roost, a younger set of artists similarly associated with politicized work have just packed up their own reunion and may very well come to grips with their own impending chore of critique-self-critique. Reckoning is process and this exhibit is a dramatic slice of it.
Egged on by Finale gallerist Vita Sarenas to do ambitiously daring work, 3Anggulo occasioned Baen Santos serving up a telon-like montage he calls OPLAN Tumba. The six-piece mural rendered in alternately perky and somber tones consists of an overpowering composition of struck down if not fatally afflicted figures brought together in a swirl of blight, bigoted chases and rabid pursuits. Baen Santos elaborates that the work is a continuing articulation of a charged, personal dictum-of evil not being a monopoly of any social class even while acquiescing to the persistent marginalization of the bottom rung. As Baen Santos shares it, there may perhaps only have been one other occasion when he had totally cast off concerns about scale, yet he pinpoints that it is in OPLAN Tumba, that he hopes to approximate heft or weightiness, alluding to the engulfing quality of large sculpture as it confronts puny human beings. As in earlier demonstrations of the artist's painterly provocations, OPLAN Tumba conscripts subtle Christian references such as a woman bearing a scrawny cross, this amidst a ravaged scape of violated bodies thrust upon viewers who may very likely slither away from the depicted carnage.
Delotavo on the other hand, brings forth a characteristically more linearly realist suite of works, once again affirming his distaste for clichéd, hysterical critique yet punching up visual jabs just as sharply, if not more so. For his central work, Diaspora, Delotavo worked from thousands of photographs he'd snapped at the NAIA departure area, mounting his pared down ground with painted renderings of Filipinos leaving RP turf with their earthly belongings, backs turned and suggesting some subtle degree of resignation. Ruiz cites how Diaspora harps on a facelessness coupled with particularities of dress and double-entendre baggage. A recent conversation with Delotavo yields his own avowed status as artworld outsider despite an already quarter of a century old practice; it is a psychological anachronism further enfleshed by the artist's seemingly schizophrenic stance, where he palpably holds disdain for art's panderers while still using them as curious measuring sticks for his own artistry. Similarly, it appears almost immediately instructive how he takes from his own biography (as in his mother's dressmaking trade) and weaves this into a personal fascination with ukiyo-e for the work UK Couture, a piece through which he ingeniously extends discourse to such advocacy top-billers as globalization with respect to thrown-out Salvation Army merchandise. In Retroaktib, Delotavo invokes visual references to the Fat Man nuke bomb set off in WWII, here juxtaposed alongside other dated technology, in a visual implication of countries brazenly talking up embargoes against countries like Korea even when the arms race was pretty much instigated in their own backyards. Two other works, Sa Dakong Ibayo and Bungkal illustrate how Delotavo's facile invocation of architectural structure and mechanization effectively allow him to touch on themes of natural and human-induced havoc with recombinant semiotic taxonomies that alienate and distance through tropes of place, excavation, and demolition.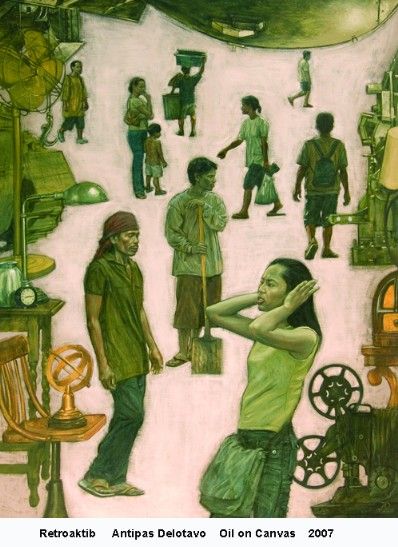 Rounding out 3Anggulo's triple showing is Habulan whose art practice Ruiz describes with a quip about how the artist "buli's" (pilipino for polish, as in jewelry) his medium. This obsessiveness turns up tellingly enough in Pulitika ng Lamang Loob, Laman, Loob at Diwa, wherein Habulan moves back into painting and away from his fairly recent incursion into objects trouvés, explaining how this specific creative process called for photographing on site and rendering 'awkwardness' rather than studio-perfect poses. Habulan has avidly drawn metaphoric juice from the perya staple, karambola, employing it as discursive hinge for making sense of constantly changing power realignments, yet firmly affirming calculated personal faith in an ultimate chance utopia-where just order triumphs in the end. In stark contrast to Delotavo's more calculated laying upon of form upon form, Habulan takes a more organic approach to juxtaposition, the irony of which is that process yields to an ultimately mannered composition nonetheless. Color is another key in the artist's toolbox as he adamantly differentiates those who hazard engagement and pay the price for it with their bodily lives. In Pulitika ng Lamang Loob, heroism is literally, fully rendered chromatically, while indifference or self-absorption is relegated to atonal grays. Parallel to Baen Santos' spirituality-laced strain of social realism, Habulan leaves the assumed assailant or perpetrator ubiquitously off-frame. In this schema, Habulan's imagining of critical engagement bodes transcendence, a type of gritty living though coming from seemingly disassociated trajectories-thus he alludes to quiet though undiminished triumph in his stark portrait of his parents. Here, in Magkaangkas Habulan demonstrates how things do indeed fall into place. In two other pieces that also deal head-on with restrained despair, the artist openly cultivates a measured emotionalism. In the Pamumukadkad series as he pits terracotta/anagama vis-a-vis wax grounds, Habulan invokes a primaily muted palette, deepening appeal to sentiment through body posture, facial grimace, as well as etched text (attempting to summon associations with the Biblical writing on the wall).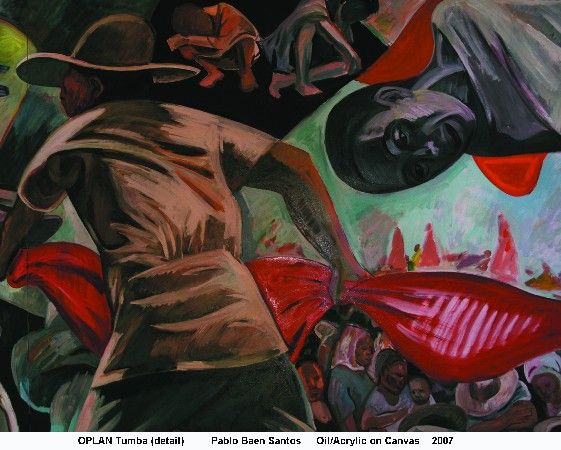 In obvious foil to popular conception, Baen Santos wisecracks: 'there are no hardliners among us', going on to reminisce how even in the 70s, their bunch of young raunchy artists, had predictably been regarded as renegades within the tight circles of the left. Quite contrary to the notion that these artists readily surrender aesthetics to didactics in the kind of work they do, it becomes palpable that even among the three, there is an openly shared reassertion of concern for the potency of form. Baen Santos for one, talks about a seminal work's not being a 'legitimate' painting, this despite Ruiz' pointing out the artist's metaphoric rendering of raw, unclosed forms is key to evoking unfinished battles amidst very able demonstrations of painterliness. Perhaps in unconscious defiance of the homogenizing tactics of the market and those not privy to their art practices, the diversity in temperaments among these artists proves genuinely humanizing. Baen Santos' less though not unstructured working up of his canvases after doing field photography at the barricades of Hacienda Luisita in 2004, suggests the irony of being pigeonholed as staunch realist even when he quite liberally works from posed photographs to thresh out problems of figuration. Delotavo deliberately conjures an agitational studio environment by bombarding himself with AM radio as he paints. Habulan's hypnotic dalliance with his #1 (painstakingly slow and virtually reed-thin) brush is often the butt of healthy ribbing among the three friends. Baen Santos is just at home with talking about Western art influences as Delotavo is with softening brillo and imposed minimalism. The latter, in a recent interview, christened himself the 'greedy portraitist', accounting for a juvenile ability to exercise a 'perverted sense of power' over classmates regaled by his ability to render x-rated figuration. Habulan avidly speaks of experimentation with various media, harping on ceramics as only one in a broad menu of materials he playfully draws from as he relishes the tactility accomplished in the act of etching, and how trajectories of material converge in imagined creative logic.
There are of course many confluences. Apart from tracing their friendships to the seminal Kaisahan and the hardy days of SR, all three take to crafting practically fully rendered and close to maniacally accomplished studies before imposing form on the final canvas. In the midst of activist grit, professional chumminess and rough bantering come seasoned with familial affinities and shared milestones, all essential buffers to the anesthetizing stats and replayed themes that confront art that refuses to live in the comfy recesses of interior-decorated living rooms and fluffy cocktail sets.
And so the making of art, and owning up goes on, even as the circus whiffs through and hopes to leave us mutely enthralled in its wake.
This article was written for the exhibition "Vantage" which ran from 14 to 27 March 2007 at Finale Art Gallery in SM Art Center, SM Megamall.
About the author
Eileen Legaspi-Ramirez is the curatorial consultant of Lopez Museum since 2005.  She teaches courses on art criticism, curatorship, and visual literacy at the Department of Art Studies, University of the Philippines, is a member of the Advisory Board of Asia Art Archive, and was a 2009 fellow of the USA National Endowment for the Arts International Arts Journalism Institute in the Visual Arts.
Her writing has appeared in Forum on Contemporary Art and Society, n.paradoxa: international feminist art journal, C-Arts:  Asian Contemporary Art and Culture, Metropolis M:  Magazine on Contemporary Art, Pananaw:  Philippine Journal of Visual Arts, and Ctrl+P:  Journal of Contemporary Art.