Rodel Tapaya: A Painter's Life
Rodel Tapaya: A Painter's Life
Early in the morning of 17 November 2011, I received news from Rodel Tapaya's wife, Marina Cruz-Garcia, that her husband won the Signature Art Prize in Singapore. The 305x610 cm acrylic on canvas work, "Baston ni Kabunian," was remarked as "a compelling and monumental-scale work" by an international jury consisted of Indian poet, cultural theorist and curator Ranjit Hoskote; Gregor Muir, executive director of the Institute of Contemporary arts in London; Fumio Nanjo, director of the Mori Museum of Tokyo; Indonesian writer, critic and curator Hendro Wiyanto; and Tan Boon Hui, director of the Singapore Art Museum. 
The following interview is a synthesis of several interviews that transpired in Manila and Berlin. Our conversation began in Rodel's new home in Guiginto, Bulacan where I was invited over to write about his latest works and continued via email during my residency in Berlin. – Jun Cristobal, 2011.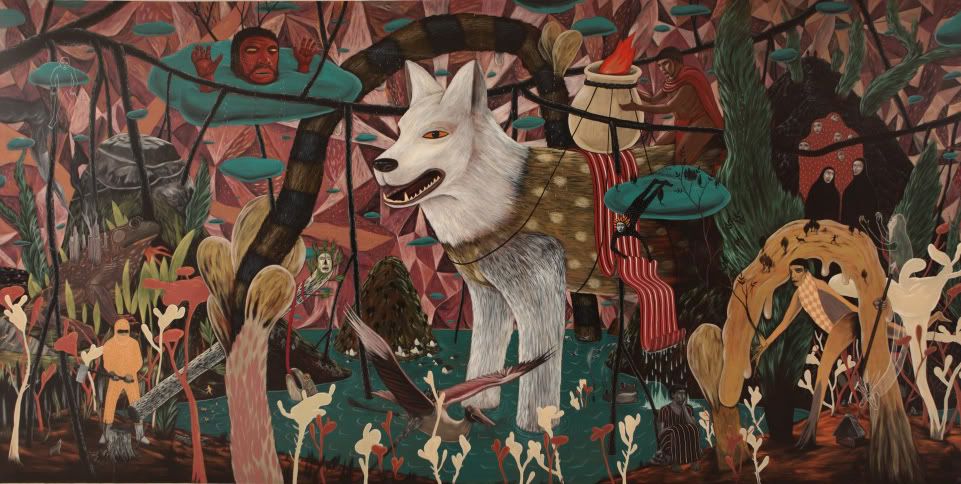 "Baston ni Kabunian, Bilang Pero Di Mabilang [Cane of Kabunian, Numbered but cannot be counted]", 2010. Acrylic on canvas, 304.8 cm x 609.6 cm.
Jun Cristobal: How do you feel about being the only Filipino in the running for the Signature Art Prize?
Rodel Tapaya: Happy, of course, and surprised because the eight Philippine semi-finalists were outstanding. They are all very skilled artists. And to make it with them as one of the fifteen finalists is a big plus for me.
JC: Why have you chosen painting as a medium of artistic creation?
RT: I think that I am better in painting and that's where I excel. Most importantly, it is a medium I enjoy.
JC: What's your idea for your next painting?
RT: My works are inspired by the folk narratives series that are very rich in colour, figure, motifs and patterns. What I will do next is to incorporate the use of negative space as a symbolic and visual device for my series in the Bencab Museum exhibition. The theme that I want to explore is "sky world" because of its relation to the concept of negative space. At the same time it coincides with the fact that the museum is high up in Baguio City.
JC: Have you ever consciously changed your lifestyle to help your work as a painter? In what ways has painting affected your personal life?
RT: There were really no drastic changes. I always knew I wanted to do studio work. I decided to take Fine Arts when I was in high school. After college I engaged myself immediately on full-time studio work. Painting seems to be part of my life as a routine and passion ever since that I never noticed the changes, even if there was any.

"Origin of the World", 2011. Acrylic on canvas, 180 x 221 cm.
JC: What kind of work schedule do you follow?
RT: I usually work from 8 - 11 am on weekdays. I am most focused during this time as well as 2 - 5 pm. After my two boys are tucked in at night, I continue working from 9 -11 pm. However I tend to do studies and other lighter tasks.
JC: What happens when you finish an exhibition? Is there a list of projects waiting in line?
RT: There is always a sense of accomplishment when I get to finish a body of work for an exhibition. With regards to projects in line, there is always a schedule of upcoming exhibition. But I have works that I do simultaneously.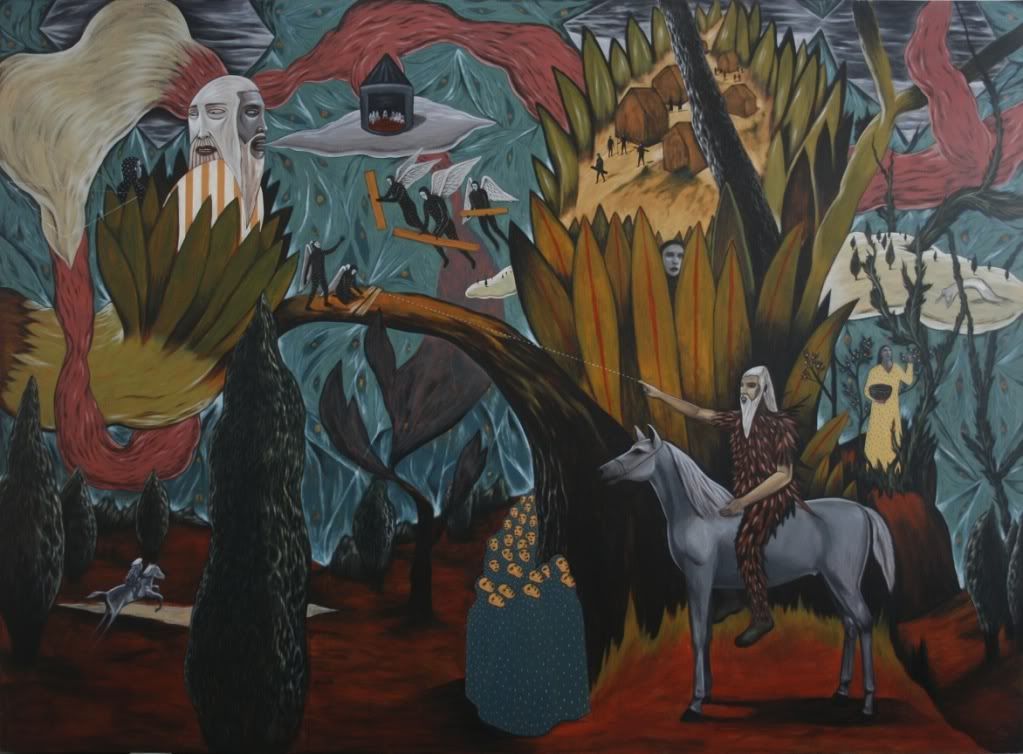 "The King's Bridge", 2011. Acrylic on canvas. 244 x 336 cm.
JC: This was a good year in terms of having solo exhibitions with Y++ in Beijing and Galerie Caprice-Horn in Berlin. Please tell us about the challenges you encountered working with foreign galleries.
RT: Of course, I was excited with new people from different localities seeing my work. The challenge, basically, as it is with every new exhibition, is to always do better than what I've done before.
JC: In addition to painting about folk narratives and historical research, you've painted pieces which essay city and provincial life (Memory Landscapes at the Drawing Room in 2010) and mundane themes such as television shows (Perya at Boston Gallery in 2007). Is there a conscious program to paint about life in the Philippines? How do you see life as an artist in the Philippines?
RT: Everything started from there - depicting everyday life with a tinge of commentary and humor. Then I just found myself branching out to folk beliefs, folk stories and other narratives. I find Philippine contemporary art so alive and full of potential. I find myself lucky to be born in this era where art is alive and the Filipino artist can compete globally.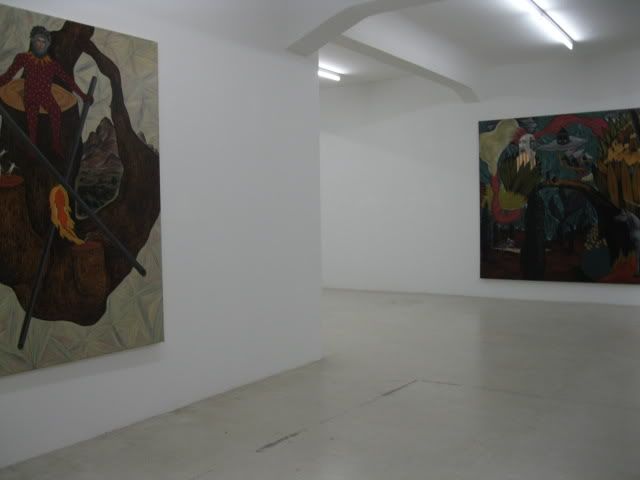 Installation view, Galerie Caprice Horn, Berlin.
JC: Your humble beginnings in Montalban and at the UP Fine Arts are no secret to many people who follow your work. Please share with us the people and events that inspired you to pursue a career in painting.
RT: There are many people who inspired me. I am lucky that my wife [Marina Cruz] is also an artist who believes in me and has always supported me.
However I recall when I was thirteen years old, one of my classmates saw my painting of the solar system in science class. Impressed with my work, he told me "Malayo ang mararating mo. [You will go far.]" I teased him, "Saan? Sa Jupiter? [Where to, Jupiter?]"
At my second year in high school my teacher in Literature class asked me where I found the kind of vision and inspiration from when I painted a scene based on our discussion on Florante at Laura. It was an inferno scene, by the way.
When I went to college in the University of the Philippines College of Fine Arts in 1997, I felt very far behind from my classmates who came from Makiling Philippine High School for the Arts. I began to doubt if the course was really meant for me. Yet my professor, Sir Bob Feleo inspired me to persevere when he told us that regardless of what you already know, there are still a lot of things to learn. "Your eagerness to learn will be your tool to success." That gave me hope.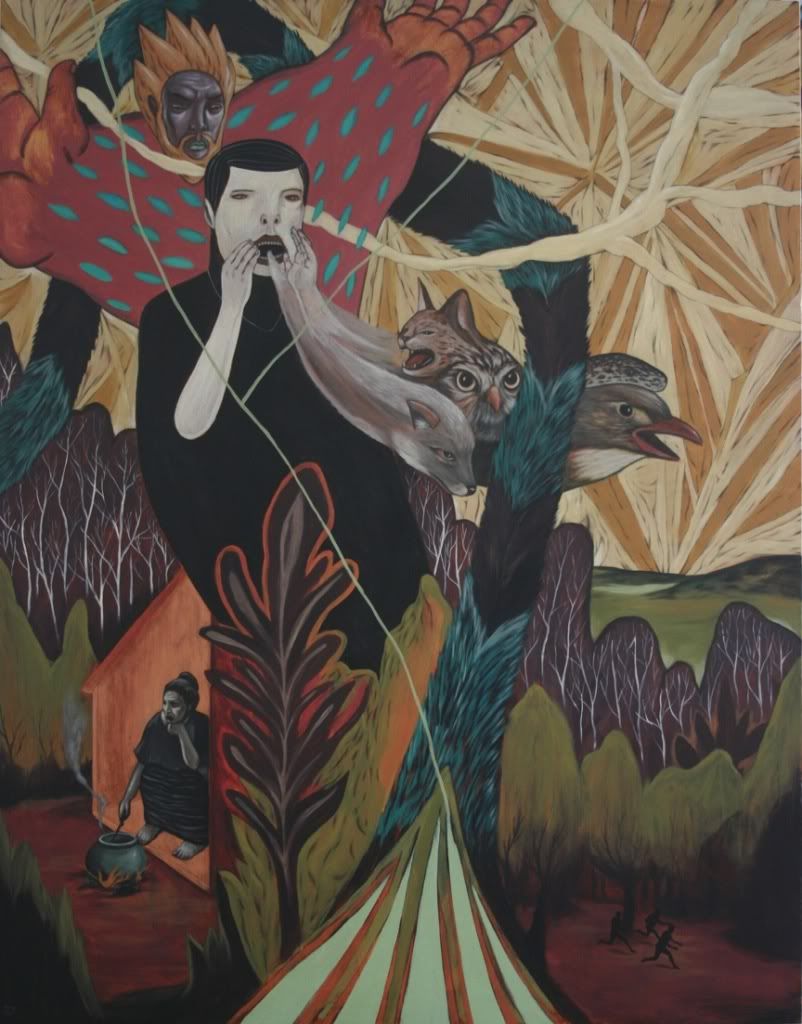 "Voices in the Wilderness", 2011. Acrylic on canvas, 193 x 152 cm.
JC: Lastly, I heard that your painting Baston ni Kabunian, aside from being nominated in the Signature Art Prize, has also earned the distinction of being turned into a plate-assignment for UP Fine Arts students where students are assigned to paint a piece inspired by your concept and composition of that very painting. How do you feel about being followed by younger artists?
RT: Actually I didn't know about that. Maybe because the Vargas Museum is close to UP Fine Arts? Of course I am happy that a professor would choose my painting as topic for a plate-assignment. It seems only yesterday when I was a student of the college and I was doing those plates myself!
The complete interview with Rodel Tapaya and 11 other artists examining selected artistic practices will appear in a forthcoming book "Moment's Notice: Collected Encounters" compiled by Geronimo Cristobal, Jr.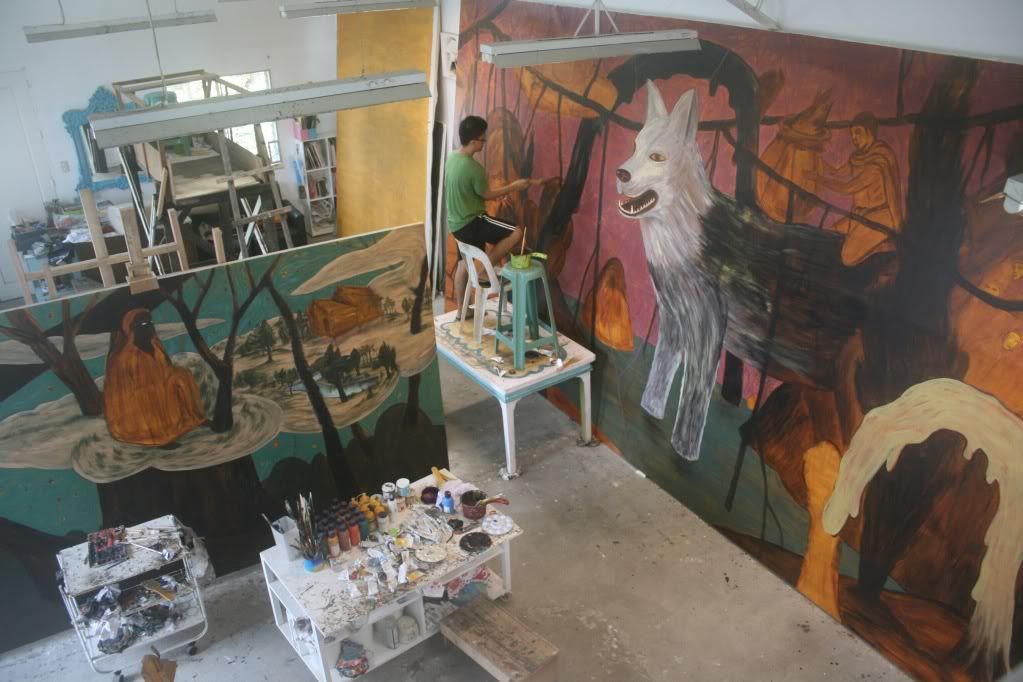 Rodel Tapaya in his studio, 2010.
About Rodel Tapaya
Rodel Tapaya born in 1980 in Montalban, Philippines is one of the most active artists in Southeast Asia today, with solo exhibitions hosted in Manila, Beijing, Singapore and recently in Berlin, where he debuted in Europe with an instant following. He broke out in the art scene by earning the coveted top prize in the Nokia Art Awards competed among artists in the Asia-Pacific region which allowed him to pursue intensive drawing and painting courses at Parsons School of Design in New York and from the University of Helsinki in Finland prior to graduating from the University of the Philippines College of Fine Arts. Shortly after this interview was conducted Rodel Tapaya won the Asia-Pacific Breweries Foundation Signature Art Prize. His latest exhibition, Prism and Parrallelism, will open on the 25th of February 2012 at the BENCAB Museum in Baguio City.
About the author
Jun Cristobal is currently the curator of the Dumaguete Art Project, a residency-exhibition-adventure platform for artists to work with communities in several destinations in the Philippine Islands. He writes essays, reviews, and criticism for catalogues, newspapers, magazines and online. He graduated with a BA in Creative Writing from the University of the Philippines-Diliman.