RolePlayColonial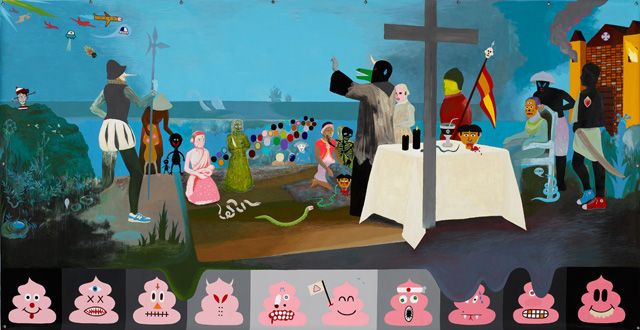 "Roleplay Colonial" (2012). Acrylic on linen, 100x220 inches.
Roleplay Colonial is a two person collaborative painting project that revolved around the tumultuous colonial history between Spain and the Philippines. It is a collaboration between myself and the Spanish artist Albert Pinya where we both represented the hundreds of years of oppression from each other's opposing vantage points.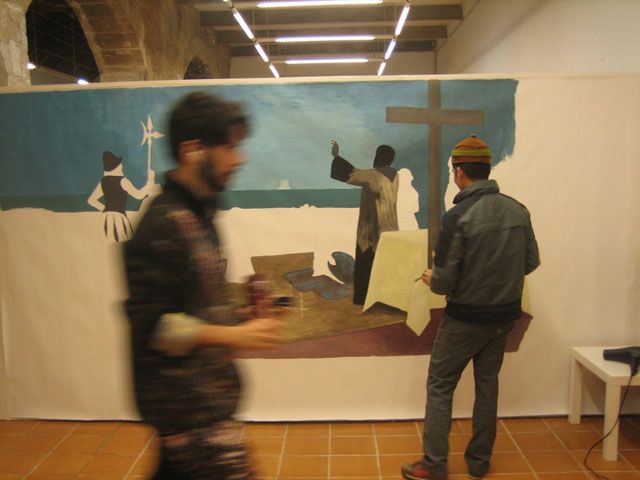 Work in progress on large canvas "Roleplay Colonial" in CRIdA studios, March 2012.
We both played the roles of our nation's position during the period as well as encouraged each other to deviate from the accepted interpretation of the historical record. This included reversal of subjugation, conflation of important and seminal events, blurring timelines, non sequitur trajectories, introduction of intervening natural disasters that might involve, and is not limited to, awe inspiring biblical, supernatural and extraterrestial forces.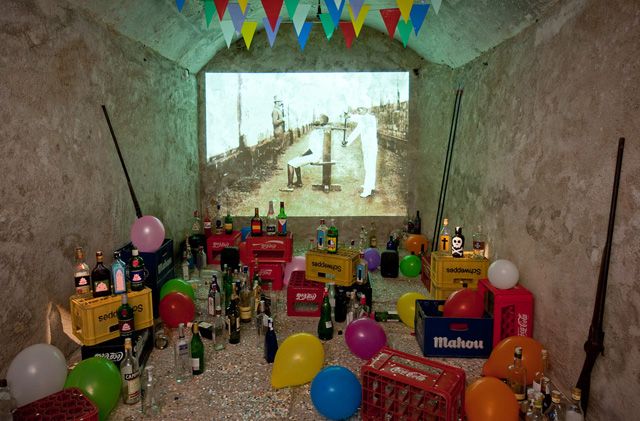 "After Party" (2012) - Installation shot with found objects, altered bottles, projection and audio soundtrack.
We induced the spirits of our respective ancestral heritage and tried to recreate and construct a new outcome of the conquest; a what-if scenario and force history to be rewritten.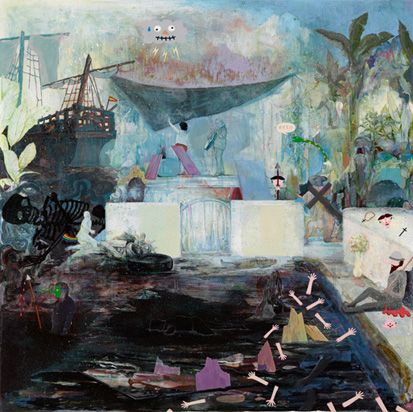 "Without End" (2012). Gouache and pencils on duralene, 45x45 inches.
We employed a multi-disciplinary approach to the project, initially presenting ideas in two dimensional works with an emphasis on obliterating each other's contributions layer by layer by means of erasing or sanding down information. The eventual large canvas piece we developed unraveled a disjointed narrative full of fact and fiction in an ambitious scale. It was based on an archive photo of a painting I found while in Manila that depicted a dramatic moment of a holy mass taking place while the Spanish ships were coming into shore.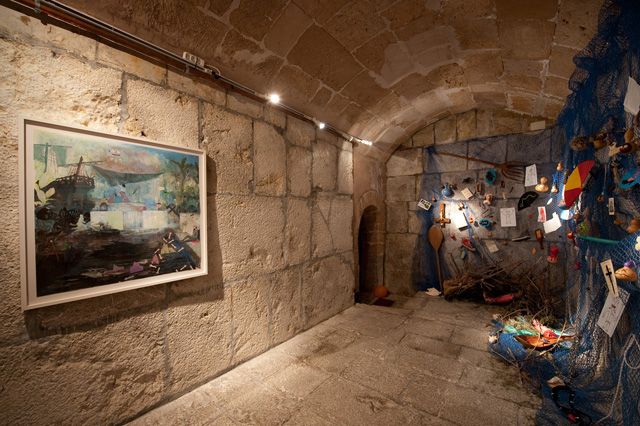 Installation view of "Roleplay Colonial"
The Spanish Colonization lasted from Magellan's arrival in 1521 until 1898. Within the three hundred and seventy seven years, conversion of Filipinos to Catholicism was one of Spain's main objective in colonizing the islands. This was further easily accomplished by the absence of other organized religion and brought together with the sheer display of pageantry by the church reinforced through the inclusion of native Filipino social mores into religious observances.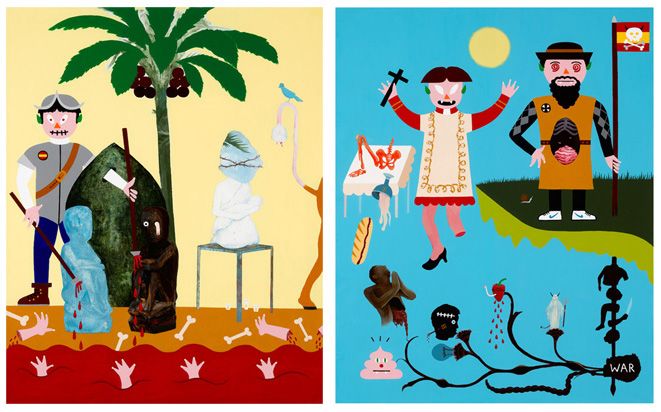 Left: "Toward What Has Been Lost" (2012). Acrylic on linen, 90x60 inches. Right: "Continuum" (2012). Acrylic on linen, 90x60 inches.
A history of conquerors is a story as old as life itself. The desired fruit of the proposed project was to nurture a philosophy that complicated the easy progression of past, present, and future to describe a more indeterminate experience of rewriting a historical colonial narrative.


Left: "Fantasma" (2012). Gouache on paper, 48x40 inches. Right: "Arriba Espana" (2012). Acrylic on paper, 48x40inches.
This project is an extension of what can be found in both artists' previous work where there is a recurring tension of opposing forces within a dystopic mental landscape. Both artists involved carry an unwitting collusion with the historical event. It's as if all of a sudden we found ourselves left holding the bloody knife in a predetermined scene of crime. What we did together after that was at the heart of what this project is all about.

"Ouroboros" (2012). Acrylic on beach stones, dimensions variable.
The project was developed in three months within the artist residency of CRIDA (Centre de Residència i Intercanvi d'Artistes) with considerable guidance from the curators Pau Waelder and Gomez de la Cuesta.
All images are from the exhibition presented in Zona Base, Casal Solleric, Palma de Mallorca May 24 - July 15 2012.
About Robert Gutierrez
Robert Gutierrez (Manila, 1972). The vibrantly colored and carefully detailed paintings carry the echoes of Filipino folklore into a futuristic world. His imaginary, rugged landscapes morph into a whirlwind of post-industrial machinery, teetering on the brink of abstraction. Technology battles with super-naturalism, and there's no telling which side will win. He has had solo exhibitions at Richard Heller Gallery, Santa Monica (2010) and Torri & Geminian, Milan (2005, 2008). His work was included in group shows at Deitch Projects, Yerba Buena Center for the Arts, Weatherspoon Art Museum, White Columns, Kemper Museum of Art and in the museum exhibition, Panic Room, which was organized by the Deste Foundation for Contemporary Art, Athens, Greece.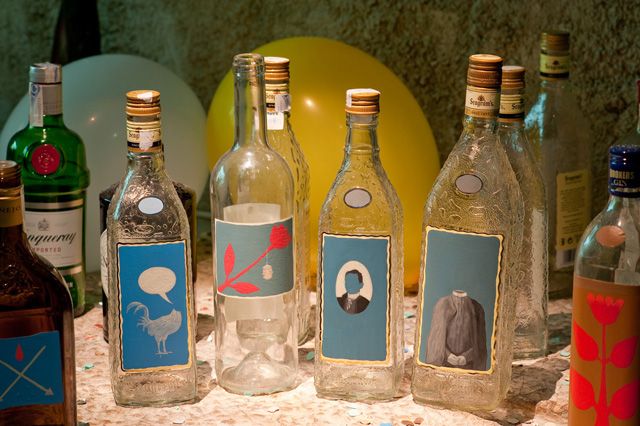 Altered liquor bottles in "AfterParty" installation.
About Albert Pinya
Albert Pinya(Palma, 1985). Recent exhibitions include his participation in "SoundForms" at the Auditorio Parco de la Musica in Rome (2012) curated by Achille Bonito-Oliva and the exhibition Art Report (2009) at the Foundation Sa Nostra in Palma de Mallorca, in addition to the solo shows "Entre la obra gráfica y la obra trágica: El resplandor de la inmundicia" at Ferran Cano (Palma,2010), "Pinto, luego existo. Capítulo 13. El dramaturgo y el clown" at Allegra Ravizza Art Project (Milan, 2011) and "Belén nº13. Acciones y ejercicios en torno al nacimiento de Jesucristo" at Can Marques. (Palma, 2010).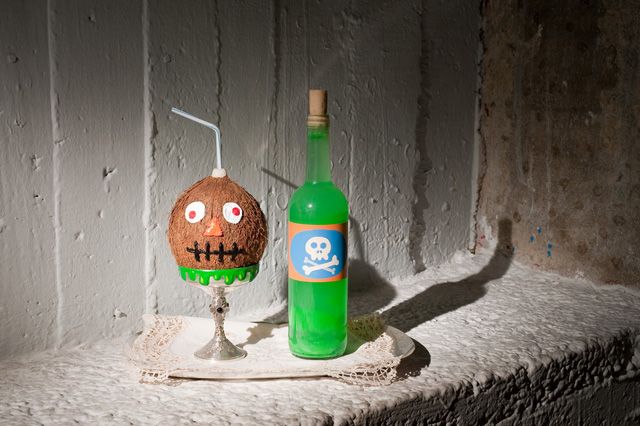 "For the Love of God" (2012).