Lordy Rodriguez takes us to his studio in Hayward, CA.
Here is an image of my studio from the back with a shot of one of my dutiful interns working hard.
This is a shot of my work area where I do all my work. On the wall, you can see the shelves that house all my inks. I use both Pantone inks and Copic inks.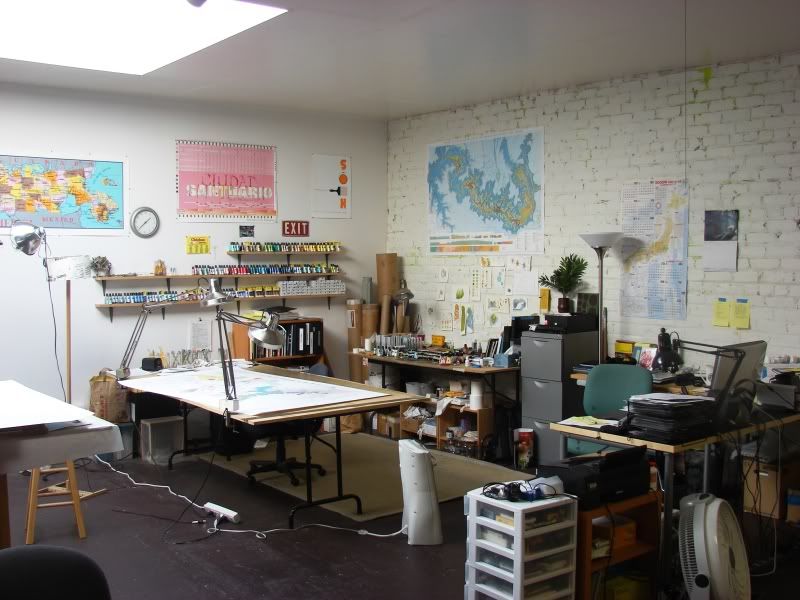 Here is a close up of the ink wall.
Extra shot of the workspace.
About Lordy Rodriguez
Lordy Rodriguez was born in 1976, the Philippines, raised in Louisiana and Texas, and currently lives in Hayward, CA. He obtained his B.F.A. degree from School of Visual Arts, New York and his MFA at Stanford University. For several years he has been working on a series of ink drawings that reinterpret the United States of America as delineated by geographic, civic and state boundaries. These handmade maps, drawn in fine Technicolor detail, represent his take on the ideal reconfiguration of our country.
His recent exhibitions include "Surface Depths", Nevada Art Museum (2009), "States of America", Austin Museum of Art (2009), "Optimism in the Age of Global War", 10th Annual Istanbul Biennial, Istanbul, Turkey, (2007), "The California Biennial", Orange County Museum of Art, Newport Beach, California (2006), "Perspectives", 25: A Quarter Century of New Art in Houston, Contemporary Arts Museum Houston, Texas (2004), "Dessins et des autres", Galerie Anne de Villepoix, Paris, France (2004).
Website: http://www.hosfeltgallery.com/index.php?p=artists&a=Lordy%20Rodriguez